Opinions? Sorry, not got time for a long OP
firstly, a word of appreciation for the games being on BBC/ITV. feels like I've been watching England on big bad Amazon for ages
Sport on domestic TV

Ireland's to lose in my humble IMHO opinion. Hope England get stuffed today. Them away in Dublin the day after St Patrick's will be fun too.
I hope Ireland get beaten seventeen times.
This Post Paid For By PROF$.
as to the rugby itself - it's hard to look past France or Ireland for the title for me. France looked frighteningly good the last few times I saw them (albeit that was a while ago), in a kind of All Blacks-type way where you were a bit scared every time they got the ball, wherever on the pitch it was.
That England squad doesn't inspire me at all tbh, although I don't really follow club rugby so if they are the in-form players then fair enough. plus it seems like they've had loads of injuries.
Predictions for this weekend's games:
Ireland by 10
England by 7
France by 20
So
Wales are going heady nostalgia, with the ruturn of Gatball and an ageing / highly experienced team. Could get messy if it turns out the old lags don't have it in them anymore.
Ireland, no. 1 in the world, on a great run of form and utterly grooved into a game plan where everyone pretty much knows what's coming but stopping it isn't easy.
France best XV in the world and probably best squad but hit by some disruptive injuries. Might use this as a last chance to try some combos out ahead of their World Cup.
Scotland for once appear to not be talking themselves up. Bringing back some old faces but again struggling through injury in key positions especially their top class back rowers.
Italy have an increasingly ggod side with some actual depth. Could well be looking at Scotland, Wales if it does go wrong and on the outside England if it doesn't click for Borthwick, as possible wins. Their u18s and u20s winning games hasn't been a suprise for 3 or 4 years now and it's starting to build through. Love Ange so much.
England. Really, christ knows. Borthers may have had big plans, but injuries mean we're depleted in some key spots and hav got Faz at 12 again and the return of Dan Cole is either genius or a sign of absolute desperation. Looking forward to OHC on the wing if we actually drop Eddie's approach of playing absolutely no rugby and pass it to him occassionaly.
All of the coaches, bar maybe Ireland, can point to injuries disrupting them.
Top 2 will be Ireland and France, order probably determined by who wins their game, with a strong chance that'll be a grand slam.
The other 4 could really be in any order but I'm more optimistic for England, as dropping pig shit thick Johnny Hill means saving ourselves at least 6 points a game from idiotic penalties, so think it's probably
3 England
4 Scotland
5 / 6 Wales / Italy
Games to look forward to
Ireland vs France as a proper brutal forward battle mixed with some excellent backs.
Italy Scotland could be a cracking open game.
England vs Wales could be brilliant could be hilariously shit.
I always wondered if I was missing something with him, given how often he got picked for England (and the Lions), and the fact we've usually got a lot of strength in depth in the second row. always thought he was average at best and quite often a bit rubbish.
who are the big French injuries btw?
i hope ireland WIN secentime times
Going to be really interesting to see how Eng and Wales go, new (old) management and a looming World Cup. France and Ireland are the ones to catch but they'll need to avoid injuries to key players.
Do always love the 6 Nations, great to get a lowd of rugby on domestic telly. Sadly don't have a working telly yet though…
Really could go either way for Wales. I'm sceptical about bringing Gatland back: it seems too much like the easy option, but I can see why they don't want to go for wholesale change with the World Cup looming. Fully expect Ireland to win today, but if Wales play well, that at least gives a bit of hope for some of the other games.
Also, the WRU is a complete mess. Lots of really awful stuff coming out now about how female staff have been treated over the years (CW misogyny, racism)
Seen squidge rugby's postmortem of the pivac era? An absolutely evisceration of the WRU at the beginning of the video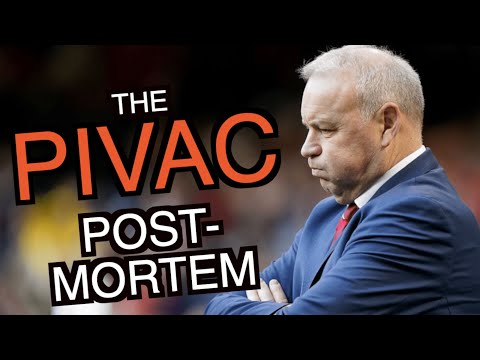 I haven't, but I'll have a look at that a little later, cheers
Danty in the centre and Woki are big players to them being able to play the way they want, Mauvaka, Gros and Lucu missing does take away of some of their top level depth, even if they do have good players to come in for them.
He is very good on this stuff. He's been consistent on Paddy Jackson, the Kiwi's numerous DV offenders, and the new Scottish stuff.
I've stopped watching a lot of his stuff since he went full on with the Eddie will win England the world cup, and now we've got no chance stuff.
I thought Wales would be poor but this is utterly inept.
Porter lucky with that tackle imo