My Garmin app told me I have the "fitness age of an excellent 20 year old" after my run yesterday. It made made day. Hell, it's made my week
So does my TomTom, and then tells me that I should use VO2max instead…
That's what my app bases my fitness age on I think. My current VO2 max is 54 apparently but I expect that is just a statistical regression or something based on my heart rate readings because from what I can tell, to get an proper accurate VO2 max reading you need some very expensive equipment. I'll take it though
Yeah, most fitness apps can make a guesstimate of it from the data gathered when you run with a heart rate monitor.
Mine's apparently 52 at the moment, so you're two Vo2Maxes better than me.
Oh, those sweet, sweet two extra millilitres of oxygen per minute per kilogram that I get
I expect there's at least an error of ± 2 on those readings anyway. Just looked up what elite athletes typically have for VO2 max. Yeah, don't think I'm ever getting there
You're probably about three years older than JohnM and myself, so it looks about right.
I am a year younger than you you cheeky monkey!!!
My fitbit reckons mine is 52-56 which is complete bollocks, mainly because it doesn't take into account the fact that some of my blood pressure medication reduces my heart rate. Still, it's a boost to be told my Cardio Fitness is "excellent" regardless of what the truth is
Bit of a niche running interest, but an attempt on a continuous completion of the Wainwrights in the Lake District started this morning by an ultrarunner called Sabrina Verjee. To break the record she needs to do it in under 6 days 6 hours. It's about 318 miles with well over 30,000m of ascent (and descent, which probably fucks your legs up even more in ultras). Absolutely bonkers stuff. Started at 0730 this morning and first sleep not planned until the early hours of Monday (i.e. after well over 60hrs on the go). We can follow her progress and bathe in our own patheticness here: Sabrina on Wainwrights Fells 2021 | Open Tracking
Edit: she maybe has an hour or so of sleep planned on Saturday night. Weak.
On a related note, John Kelly is running the Pennine Way
He's currently three hours ahead of his target, with about four hours to go. and therefore should be crossing the line at about 7.30pm tonight
Yeah, he's gonna smash it. He broke the record last year but held it for like a week.
Been out for a while with a sprained ankle and gonna go out this evening, after a period of rest and strengthening. Anyone any tips on getting back?
Will do a slow and steady 30mins I think. Should I strap it?
Underestimated myself a bit planning for a 10k rather than a half marathon. Obviously I was in a much better position than I thought and should have been targeting the half. This morning I hit just under 49 minutes on my 4th 10K to date. Felt absolutely elated, properly punched the air when I finished.
Still six weeks off the race so will keep building up slowly from here, but really feel I've got it in me to go a lot further now.
Curious to know what warm up and cool down everyone does?
Atm I am doing these warm up exercises: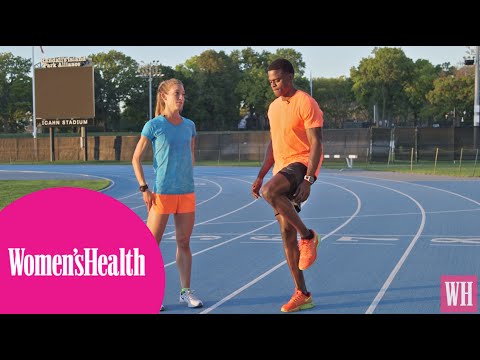 Then walking for five minutes before starting my run, and walking five minutes after the end of the run. Have been very disciplined and have staved off injury a lot better than ever before. Going to add some proper post run stretches in too now and want to know what everyone does.
I'm terrible and neither warm up or down.
Sometimes stretch itb and calves if I'm tight before and or after, but that's it. I'm not proud my myself!
I'm trying to get back into the whole running thing. 10 miles this week, along with a 35 mile bike.
18 weeks till the Manchester marathon from next week, so I'm going to get myself in a proper set up for it. 3 or 4 runs a week, including one long one, a bit of cross training, yoga, and a regular physio approach.