It was only when my daughter first started learning drums, and we'd jam ACDC (standard issue for learner drummers) with me on geetar, that I got over my total lack of ACDC appreciation. I still (10 years later) don't love them, but I'm now an appreciater of the way their stuff is carved out. The solidity and heaviness and energy they pack into their sound with zero fuss, zero waste, massive clarity is incredible.
Appreciate score: 8/10.
One of my wife's favourite bands. Favourite track is Thunderstruck and that intro is something else!
100% this - their economy is amazing.
Always loved this interview
Just Bon walking round Covent Garden in probably illegal shorts, with a banana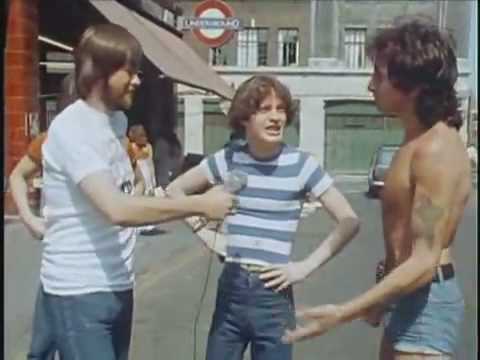 Saw them at Download in 2010 when they brought their own stage and were a bit funny about having their name on the official merch, but ANYWAY they were fucking brilliant. One of the best live bands I've ever seen.
There's not many bands I'm jealous of my dad seeing, but AC/DC are on of them. Back In Black tour too. Started the gig off by lowing a massive bell to the stage and whacking it before kicking off into Hells Bells
A Whole Lotta Rosie used to regularly get played at school discos I went to in the 80s, leading to all the lads forming a circle and headbanging away

Went to a football match last weekend and as we were entering they were playing Thunderstruck. My daughter asked "what is this song?" with as much derision an 8 year old can muster.
I won't lie, I was proud of her.
Saw them live in Brisbane a few years ago. As I was arriving at the stadium I saw this guy in Acca Dacca clothing / denim / leather vomiting profusely in the street, still clutching onto his shitty beer. This was before he'd even gotten into the stadium.
Was a great Australian experience.
"I just bought Big Ben!"


They had the massive bell (hahahaha) when I saw them but opened with Rock 'n Roll Train (an actual fucking train on the stage) with an inflatable Rosie riding it.
Unbelievable scenes.
One of the first bands I ever saw live, on the Thunderstruck tour at Wembley Arena. Mind (and ear) blowing stuff for 13 yer old me tbh tbf…
Seen them a few times since then, including on the Black Ice tour and then a few years back at Wembley Stadium. Best time however, was when they played a reopening show for the newly re-furbed Hammersmith Apollo in 2003 and sold tickets at 1981 prices (so £10) as that was the last time they had played there. Had to bunk off work for three hours in the middle of the day to hot foot it over to Hammersmith, queue up for wristbands, get back to work and then head pretty much straight out to the gig that evening. Used the clever cover for being out of the office of leaving a jacket on the back of my chair and returning later in the day clutching a handful of "paperwork". The perfect crime.
Remember folk had travelled from all over Europe for that show. Met some lads outside who had driven from Germany and slept in their camper van outside the venue to ensure they made it. Amazing gig - pretty much the perfect setlist:
Yes! I went to this too. How can it possibly be 20 years ago?!