Anyone seen the Korean film that this is an adaptation of, The Quiet Family?
Ahh yeah, you might be right
the daft metal band playing over everything is Iron Maiden and there is a vat of gunge at the end but I don't think the chimp falls in it. I actually liked the ending
I have not but it has Song Kang-ho and Coi Min-sik in it so it'll probably be worth checking out eventually.
This sounds like a Saturday morning kids TV show from my youth
I like Kwaidan a lot but it's definitely one you want to put on early in the day to minimise chances of nodding off. Still, it's amazing that for such a long film, each installment feels like it's pretty much exactly the length it needs to be…
I watched it in two bits.
brilliant cake tbf
https://x.com/groovybruce/status/1704673439993475396?s=46&t=qGXApYX0vmxgfM7vLM7aKw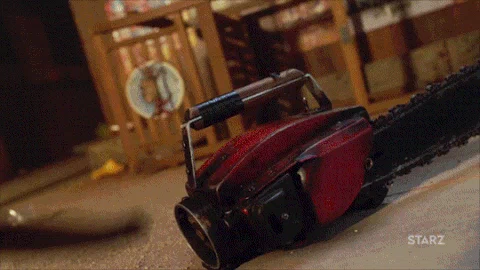 Watched an absolutely mad Australian exorcism one called The Possessed. Includes the man from Wolf Creek trying to cast out "those bloody demons" while waving jazz hands. Stars someone who got famous from Australian Gogglebox. It should be rubbish and it is but theres something slightly redeeming about it. Not sure what.
I always physically force myself to watch at one of those V/H/S films on Shudder every year. V/H/S Viral seems to have disappeared so I watched V/H/S 94. And it was very boring! The Indonesian robots one could have been cool but there was no need to make it found footage.
Overall i do not think they are great films but some of the segments are genuinely terrific and frightening.
Probably going to watch the first two The Addams Family movies with my niece this year, introduce her to the classics. Grown up horror wise it has to be Texas Chainsaw Massacre to start the month no?
We've watched most of the child friendly horror options (although they NEVER het tired of those Addams Family films) but was going to try our two on The Monster Squad this year



Watched last night, Til Death Do Us Part…
Don't know if the term 'landfill horror' exists (and CW: googling it returns some unpleasant results) but this felt like a quintessential example. It's basically a mashup of other, better films with a strong dose of Kill Bill, some Ready Or Not and You're Next thrown into the mix, and topped off with a heavy John Wick seasoning. The premise of bride vs groom's party is interesting, but at the best part of two hours (!) long it gets quite stale quite quickly. Positives - Natalie Burn, who I last watched in Downhill a few years back, is good value in the lead. Took me awhile to work out where I knew one of the antagonists from - why it's that Jason Patric from Lost Boys all grown up. It kind of goes for a fast paced whacky black comedy tone, but becomes a body count by the numbers yawn-fest very rapidly. Oh, and there's a chainsaw in this as well just to let you know that it's a horror film obvs. 4/10
Ooh theres a new Hell House LLC out next.month
Are the other ones worth watching then? I've seen the first but assumed the sequels weren't.
(Not that this stops me with other franchises though)
Only seen the first myself tbh!
Watched Final Destination 2 last night. It was truly terrible but the early 2000s stink off it was enough to help me stick it to the end.
This is great news, big fan of the series so will be excited to watch that.