I've not had a chance to look through it properly yet, but they're showing Blade Of The Immortal, and that looks incredible: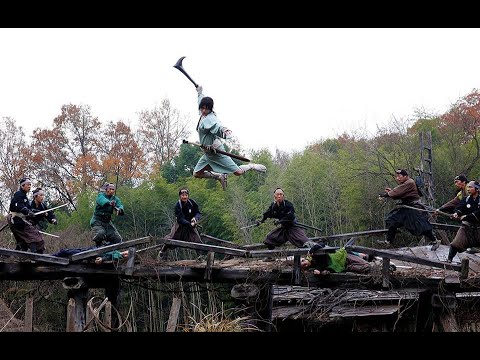 In years gone by when I was a member i'd draw up a long list of what I wanted to see, then add times to Google calendar, then try and get tickets on the day of release. I just can't be arsed anymore. I usually get a printed version of the guide then see what's on when I have a free evening, and usually end up catching something interesting. Usually something mildly trashy from the THRILL section.
Scanning that, I think 1%, Small Town Crime, Memoir of a Murderer and A Prayer Before Dawn might fit the bill,
Defo seeing 120 Beats per Minute as its not out until April here and is meant to be incredible. Otherwise will take a proper look this weekend.
This is what I'm doing, I quite like the faffy bit. Will make a list then find a weekday when a few of them are showing and book it off work. It quickly gets pretty unaffordable otherwise as tickets with membership can be £16 on the weekend and it all racks up. Probably see a couple of others on a whim too.
Definitely enjoy seeing films on the pulpier side rather than dramas.
Weekday ones are better for me what with weekend parenting obligations.
The headline ones I'm usually happy to wait and see when they get a general release. There are some from last year that I'm still waiting on!
I actually took two days off last year for LFF and ended up seeing two films that weren't even part of the festival.
Think I'm gonna go for a double helping of European dread on Friday 13th and see the new Lanthimos Killing of a Sacred Deer straight in to the Haneke's Happy End
Missed this on the line up. Definitely want to see that (at some point, hopefully at LFF).
Booked!
Monday 9th - Person to Person
Wednesday 11th - Good Manners
Friday 13th - Killing of a Sacred Deer
Friday 13th - Happy End
Sunday 15 - You Were Never Really Here
Very very happy with that selection. Also the website was a bit sluggish but worked fine, didn't crash at all for me.
Booked Lean on Pete, 120 BPM, Florida Project, Surprise film (my first!) and You Were Never Really Here. Everything else can wait till payday.
I'm away for most of the first week, which restricts which films we can get to.
We've gone for:
Sat 7th - Columbus
Sat 7th - Ingrid Goes West
Sun 8th - Our Time WIll Come
Mon 9th - Thoroughbred
Tues 10th - Professor Marston…
Fri 13th - Bad Genius
Booked today (thanks to being an AMEX wanker):
The Wound
Reinventing Marvin
Sweet Country
A Ciambra
Quality Time
London Calling (selection of shorts)
Five Fingers For Marseilles
Bad Genius
Here To Be Heard: The Story Of The Slits
Saw a few of these at the NZ Film Festival last month.
Can strongly recommend:
Call Me By Your Name
Loveless
Didn't see, but got good reviews:
Killing of a Sacred Deer
Blade of the Immortal
Beach Rats
Don't recommend:
Happy End (general consensus among myself and film-geek friends was negative, sadly).
When the heck is it getting a general release?
I only booked for Person to Person and The Final Year
Eurgh…last year it was just films from the cult section so tried to broaden things a bit this year…
-Ghost Stories
-Rift
-Spoor
-Hagazussa - A Heathen's Curse
-Grain
-Lucky
-The Ballad of Shirley Collins
-Dead the Ends
There were a couple more I was interested in but couldn't get times to work. Like Killing of a Sacred Deer is on at 11:30 am one day so can't even do a half day at work and see it.
It's released in November anyway