Stayed here once and you can too. Photos not really doing it justice here though…
https://www.landmarktrust.org.uk/search-and-book/properties/anderton-house-4644/#Overview
Not a fan of that top one at all, an awful lot going on.
The collision scene of someone who liked the idea of minimalism until the realised that they quite liked having stuff.
When I went to Palm Springs all I saw was grid streets and taco bells, I guess all the fancy houses are tucked away in the dessert
I think I spent my whole time there focused entirely on wrangling 3 kids about so probably just wasn't paying attention
I dream of a even a shit house in a dessert now - just want to laze about in hot dry air with crickets chirping
It is me!!
One of many superb touches I have made to my flat. See also: window decals, fake lavender box in bathroom 1, diamante chain on pipes in bathroom 2, washi tape to make the back of the metal hooks look more inviting, a rug in the large cupboard where coats and shoes are stored.
Have loved this Japanese decor brand since 2010? 11? Such a long time. Their name is short for romantic princess and though ultimately, I prefer a cleaner, more minimal style for my own living space, I just love the aesthetics of their interior decor so much

Style très français
French Style…
Yeah it seems really French inspired, I wish I got to stay somewhere cute like that when I went to Paris, but our hotel just had a load of clown portraits and not much else
Even Disney land Paris decor was cursed, had to sleep under a giant portrait of this guy and you better believe it was covered up by a towel

but that's Sir Tow Mater?! he's a lovely guy/truck thing.

Our house is 1801 built, most walls are white or pale as lots of beams and original doors that have been stripped and re-done a oakish colour.like light have loads of large windows so never dark really…there is an old stone sink in the Lounge, that would have at one time been an animal drinking reservoir…Found this photo of a vague decor, more Cats though. No idea what the real lay out of the house is except the stairs have been taken out so upstairs no much idea there…
Kitchen bright yellow and looks the right colour…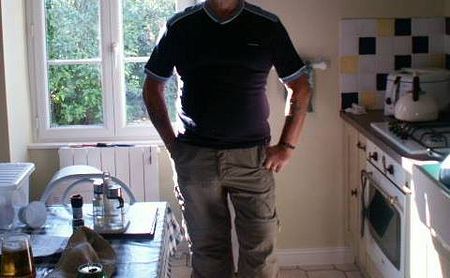 Husband 3rd great grandfather was one of the famous wallpaper designers and and did have his ancestor's wallpaper in Buckingham Palace (Rennovations have likely had it striped, know they have spent hugely on it of late) and in the London Museum maybe the science or history one, cant recall…Sold out eventually to Sandersons…
The teeth got me straight away…arrgghh no taste these places…My sister in law who lives here as well, she like to lord it up and stays in Chateau's with the old fashioned services and the full as you believe it to be… French Style…Not for me though a home peeps with Hubs and Cats and a cosy log fire.Small room with all we need in it…