Ended up unofficially doing most of this while reading his book last year, definitely up for trying to do it again though.
"We like the same music, we like the same bands, we like the same clothes"
Drowned in Sound, 1998 - 2021
Greetings from Asbury Park, N.J.
Blinded by the Light
Growin' Up
Mary Queen of Arkansas
Does This Bus Stop at 82nd Street?
Lost in the Flood
The Angel
For You
Spirit in the Night
It's Hard to Be a Saint in the City
Let's begin!
Solid but unspectacular debut, to my ears. Find that this is sometimes a little overrated by some. Definitely shows some great promise but I find that, out of all his albums, this is one where the live takes of the songs are so much improved on the studio cuts.
Love how three people are credited with "handclaps" on this record.
Its a decent record, revisited it earlier this week in preparation. Bruce's voice sounds great, tell the lyrical content is there. The sound of the band not quite jelling yet (Clarence's sax seems distant in the production), but we all know what's to come. Some really really solid tracks in "Lost in the Flood" and "Spirits in the Night".
Not an essential listen by any means imo but one where the Bruce and the band coming into form.
Yeah, definitely his 'Dylan' record, trying to squeeze in as many lyrical couplets as he possibly could. Think his label were after an album in that vein but he got together the beginning of his legendary band and made a fuller sounding record instead.
Or at least he would have done if the production was any cop.
Going to join you lot on this one - only know his big hits and enjoyed the Mogwai Listening Club so will be interesting getting to it. It seems like a long slog though so will see how I feel in a couple of weeks

Going to stick it on now.
So except from his 90s stuff and the majority of his mid-2000's records which I still haven't listened to, this was the last of his main discography I checked out. As everyone else has said so far, decent-to-good debut, can see signs of whats to come later on. But not a bad start.
Listened on the bus home today after the England game, not the worst journey i've had!
I'll save fave' track and lyric for later in the week.
Happy Springsteen Sunday everyone!
Heard Greetings From Asbury Park, N.J. a couple of times.
Sounds an impressive debut and a mature album for a first album. Liked the feel of the album. Probably will go back to it. 7/10.
Couldn't finish it yesterday so listened to the rest just now. As I said I've not heard much other than a handful of his most well known songs and what a lovely surprise! Really, really enjoyed it. I note a message above saying you can't quite hear the band as much as what is to come…but I think I may prefer this style of sound compared to the more prominent sax etc coming in. Really humbled simple sound and fantastic voice.
Quite hard listening to it as a debut retrospectively but it is a really strong first record. Going to have a second listen through and then look forward to picking my top 2 (I take it?) when the poll comes out.
Sorry one last thing - I probably have heard quite a few of these because I have seen 'Blinded By the Light' but at the time I never really knew which songs were which but now recognise a few from that

Gonna try and listen along with this, love a bit of The Boss but not familiar with much after Tunnel of Love.
The live version of Lost in the Flood is great
Hadn't listened to Asbury Park for a while and I kinda remember why now. Not a bad album by any stretch, but a long way from Bruce's best for me. Starts really strong with Blinded and Growin' Up, but Mary Queen of Arkansas just bums me out completely, sucks all the life out of the record. It picks up again, the last couple of tracks especially, but as a whole it doesn't do a lot for me.
Greetings is a weird one for me. I don't love it but it always feel like it's a better album than it possibly is. Maybe it's because it's bookended by 4 or 5 really good tunes so starts and finishes really strongly.
Agree with @crisps about Mary Queen of Arkansas. It's pretty turgid.
Lost in the Flood is one of my favourite Springsteen songs, but I'd forgotten how flat the album version is compared to the Hammersmith live version. It, along with Spirit in the Night are probably the big precursors of what's to come in terms of his songwriting. 'Spirit…' wouldn't be out of place on Born to Run.
7/10
Okay, Music Club is fallow so… I'm in.
Should point out that although a lot of people who's music options I value on here rate Bruce Springsteen, I don't. I mostly apportion this to a lyric in a Dead Kenndys song (Terminal Preppie). I know his big singles, as most people will, but I do not really get the love for him at all.
So, I've listened to this album twice this week and it is a much more mature debut than I imagined. The songs are very well written and delivered. There is something lacking for me though. It feels a bit like Meat Loaf but without the humour, like Meat Loaf singing a news report from the Telegraph.
It's a good album but there's not a lot to draw me back to it. I will listen again throughout the week. Also it took a 2nd listen to realise the opening track is this, or at least Manfred Mann covered Bruce, which I never knew. Think I prefer their take…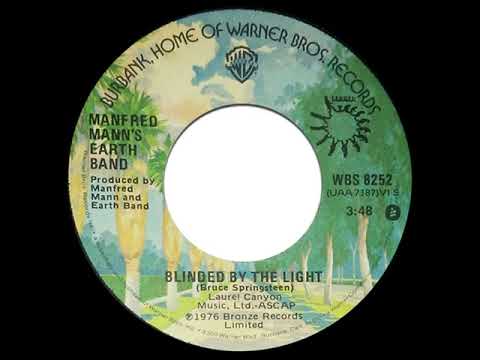 The Manfred Mann version is the only Springsteen-written song to be a US number 1 single
This is surprising but doesn't make much difference as he's largely and album (sales) artist?
His original is very different and only on 2nd listen did the lyrics click for me.