Boop
Thought I cropped that last one…

The collection of cats with Girlze are called Winstanley from Norfolk UK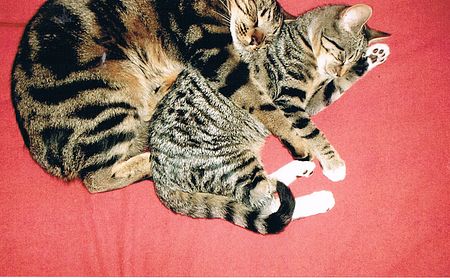 This is Boyze and Girlze and although he seem to really care for Girlze and she him… his hunting obsession won the day…
We treasure his Photos with Girlze they are very much like this and if only he could have been a normal puss…one day he brought through the cat flap a moorhen…we were out and when we returned the feathers where everywhere and the moorhen was not with us anymore…He had not eaten it though so some of his ways was just the hunting in him…This picture makes us smile although he looks like he is saying…up yours…a cat would not think like that it is just us humans seeing it…


Woke up this morning to find Ron, fast asleep with his eyes open, with his head on my orthopaedic pillow (I've blurred out a very asleep Mr b, as I don't think he'd thank me for sharing). The absolute state of it

That is a pretty sweet collection! I especially like the big one on the far left.
That looks such a cosy nook! Would very happily snuggle there with a book and your cats

Apologies for my face but I managed to catch Winnie looking gloriously majestic just before she jumped out of shot

Us femmes are never going to stop worrying about our looks…bugs I say…or Cats is the way forwards…Girlze loved to the moon and back


I dare you to tickle her tummy…do not got there…
Cats who refuse belly rubs make me sad.
she does not refuse though…her history was her way as at 6 weeks old her mummy run out of training time…just beware of the unexpected… but then she was never a lap cat in her youth …now she is the opposite…wants to be with us and sits with us enjoying the heat we give off naturally when it is chilly here, we love her even more…is that possible…
Ah, I see.
Yes, cats are adorable fluffy heat-vampires. It's one of their many charms!
Leo is obsessed with butter at the moment and suddenly appears whenever we try to eat toast or a sandwich. If you try to distract or get rid of him, he runs away dramatically before skulking back silently and having another go. Such a little rascal.
Saber not only loves his 'Dad' but food has to be a close one too…We take care with his diet and every evening has Alaska Filets… Pollock fish in the UK I do believe, One meal of cat food for breakfast…lunchtime he has a treat ,crunchies or just our cooked meat preferably beef as it is full of Taurine that is essential for a cats well being
The downfall at the moment is Cream, it is low fat, but it is a cream addiction just the last few weeks with me making puddings again…
Saber sitting on the small oven…had to move it because obviously we did not want any accidents…