Hi! To find out what I can do, say @discobot display help.
Wow and I can edit now…people have no idea how much I need the edit…happy days
I can talk to myself all day it is fine…Had a nice Pudding last evening…1st Timer as well… Husband loved it…I know your dying to know what it was…haha
Honduran white bats are nice! They are tiny pig-snouted bats that create tents for themselves from large leaves and when snuggled in, you can't tell they are there!
I will look at them but with only one eye…Isle of Wight memories of bat in my hair…you at least made them sound nice…as you cant see them…oh no just thought …they could see me…
I like the saying …if you cant say anything nice say nothing at all…
that would be all I have to say on that…

was exceptionally good…or was it the vin…
Getting a lot of joy out of the bird feeder in the garden! Lots of blue tits and bold little robins hopping on it, jealously watched by the Big Lads of the garden (wood pigeons, blackbirds, and squirrels) who can't fit on but get all the seed that's knocked to the ground below.
went outside the other day and could hear what sounded like hundreds of little birds in the conifer tree! Very excited so I took a little video.
Husband has made many but traditional styles from wood ,has no way of keeping it for one particular bird, we do get red squirrels passing us towards the walnut trees so that keeps them off the bird tables…
I tried hard to see what birds they were…starlings are always in large numbers but not the only ones that gather in groups…
I couldn't actually see them only hear the chirping. Surprisingly loud though!
yes I missed a good photo this year with the Cranes that come over France hundreds of thousands of them and you can hear them before you see them…sometimes their radar seems to go wrong and they go off in the wrong direction and some get out of line and for a few seconds it looks like mayhem but they just have such a clever navigation system they sort themselves out in a flash again…
This is where I will be for ages now…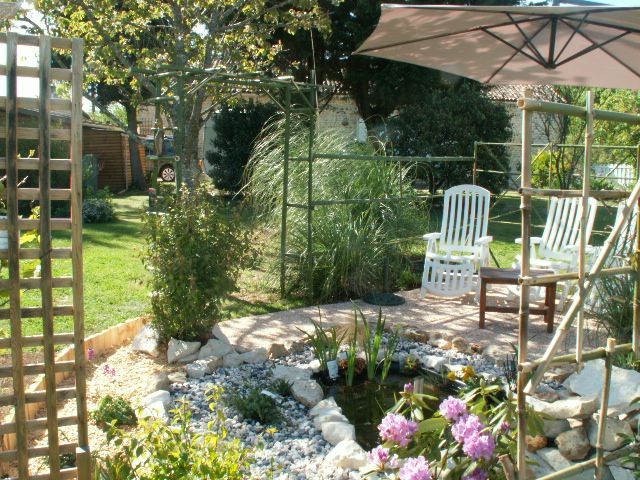 Even though this was last summer… Today it is chilly 10/12 degrees with a chill in the wind, some showers might occur, but it is a good photo, some parts of our garden are what the land was originally…farmland with rough but kept short grass. We are improving it all the time…the size is good 1 acre and we are buying the small plot at the end of our garden …from our elderly neighbours as it has planning permission on it and we just do not want it built on…

We have had a flock that sounds exactly like this (in our huge overgrown front hedge) we can see them everyday from our bedroom and living room.
They are sparrows, ours are a mixed flock of hedge and house sparrows and I think maybe dunnocks as well. Last year there were 13 of them (or at least thats the most we managed to count all together)
They perch in our cherry tree and keep a look out for each other.
They bathe in the gutter above our porch.
The next door neighbours have a fat ball on their magnolia tree, the younger tweetles swoop from out cherry tree to the neighbours magnolia tree …going UNDER the neighbours parked car, its great to watch and great to tell other incredulous people and then let them see it happen.
Nice place. Looks calming.
Love weeds…not…
Most places can be calming…but why do a get one bad neighbour following every we go…
If you are a calm person you see things differently…I am moody so happy bunny and then something upsets me and I really do throw toys about…Husband was calm years ago…


Not so cold either out, once you start digging…
Property is not expensive, you can buy a really all singing house for under 400,000 Euros with land and a swimming pool, an acquaintance nearby is selling his place and it is going for under the 400,000 can show you as an example if its allowed…
If is ware you wish to be, its good …like anywhere, life is what you make and there are plenty of idiots in every corner these days. Plenty of peace here but go to a city and life is different…
Nice things here are seeing the Deer run about and the opposite is the Hunts…bang bang another life gone…we are lucky we have few hunts and ok its the old French ways …all rules are followed to the T…notices in place where the Hunt is and what they are hunting…Only certain times of the year allowed…Special licenses and any breaking of any rules…well no executions here as such…
mmmmmmmm 400000 euros…if only.