…and drink a glass of water. It's very important to me that you all stay hydrated. Thank you!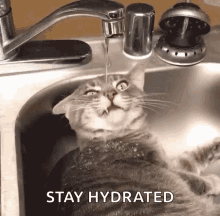 A very kind-spirited thread x
Having a cola calippo. Does that count?
Please may I add some ginger cordial to mine?
You're not the boss of me
Having one now with my lunch
On the Yorkshire Water today.
Had a glass earlier. Having a coffee now but will have more water after this, promise!
Just having a coffee, you are not my mum
I'm going to be the most hydrated person on DiS and it's all thanks to you and this thread.
Thanks! Just had a bottle of water after a trip to ikea (which seems to have no ac

) and filled said bottle of water halfway with some orange juice
Can't believe i'm gonna die of dehydration for a DiS bit but mans has a code
Got some blood orange flavoured sparkling water from M&S today. Levelling up my hydration.
stay hydrated y'all