I 'you've been tango'd!'
I was tango'd
I witnessed a tangoing
More of a fanta person
they find the time to snap chat, but there's never time to call me anymore
yo-yos
large gobstoppers, like way too big
aliens in gel
pokemon cards
finger skateboards
Shittest craze was the Lance Armstrong charity wristbands. Had one with a marijuana leaf on it instead because I was so fucking edgy
did anyone get that magazine where you collect plastic pieces of a dinosaur skeleton each week
I have a memory of weeping with laughter in a shop at the awfully translated descriptions on the packaging of these. 'Geng of alien baby is same as of human baby' is a phrase that's stuck with me for life.
Didn't Puma have a disc instead of shoelaces for all of six months?
And Reebok Pumps!
Peter Kay.jpg
I really went in hard for yoyos and tamagotchis and pokemon cards (don't care about the cards anymore but still really love pokemon and wouldn't say no to a yoyo or tamagotchi)
I heard if you put them in the freezer overnight between 1999 and 2000 they would have babies but they didn't. First disappointment of the millennium
Global Hypercolour t-shirts, highlighting your sweatiest bits in ways never before possible
crazy bones are here
crazy bones are here
gogos which I believe were these little plastic things you would flick at each other like marbles to win the other person's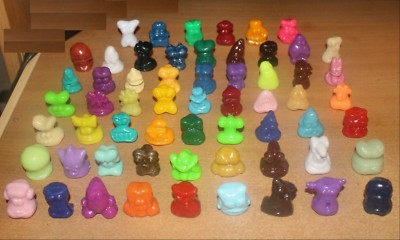 Got banned at our junior school cos kid were getting violent over them in the playground. Still remember when Mr. Sturgess said in assembly "gogos are gone gone"

Yep. Think I had a glow in the dark t-rex out of it in the end. Probably cost my parents hundreds.
Meatspin
Like we were all scared to leave our computers unattended during IT lessons
Annual reminder that Gil Scott Heron was the 'you know when you've been Tangoed' voice.
wo