Probably
No I don't
Who cares
I say who cares which implies I don't care but I do, just that from a religious standpoint it doesn't really matter as our current universe is nothing but a speck in the eternity of the afterlife
Isn't that right, Discobot?
Reply hazy, try again
We know the sun will blow up right? And that's aaaaaages away. Deal with that one first I reckon.
That's probably pretty easy to predict though
There are prediction models
There's the big crunch model - the expansion slows down, reverses and the universe shrinks back down to a singularity again. This may have already happened infinite times
The steady state model - the universe expands to perfect gravitational equilibrium
And the infinitely expanding model - self explanatory
Trouble is that the predictive margin of error means that any of these is plausible
Probably be one of those classic things where some boffin cracks it, notes the time, then turns to look at the clock and realises - oh shit! - it's happening tonight!
I'm choosing to read each of these replies in the voices of Holly from Red Dwarf
Please don't tell me I think I'd find it depressing to know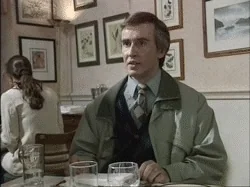 this voxel of Ainsley Harriott
When the universe ends there won't be any when
It already happened. Our existence is just the equivalent of gas escaping from a corpse.