Strong vibes of one of those scenes in Toy Story when the toys are up to something when someone walks in and they just have to flop to the ground immediately. Don't think this scene made the cut though.
I love finding a thread that I hadn't seen first time round.
Keep calm and eat ass.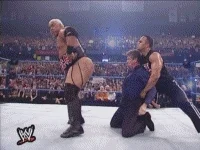 Seems unbelievable any regular user could miss this abomination but here we are!

Opened this thread for the first time today and I don't think this early doors post can be defeated