Got a bottle of Crudo Catarratto Zibibbo (Sicily) so guess I'll pair that with a pizza whilst supporting Turkey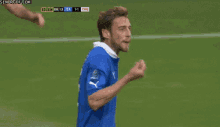 Eating pizza but wearing a red T-shirt.
The pizza is just a Friday night thing.
I'm hoping this tournament will lead to a bit more interest in Turkish football again. About half of their squad plays in the 'bigger' leagues now, and in France particularly they've shown their quality. They're producing young players with real technical quality again.
The Superliga's great fun. Loudest crowds in European football by a distance, it's as volitile as, say, Argentinian football, and as fun as the Scottish leagues. Pound for pound its the best value league in Europe. There are better leagues, obviously, but they can be overly commercial and predictable.
Not going to pretend to be an expert on players, but the Lille lads have been great fun this season, the centre-halves are great value, and the Undertaker's a much better player than he's been able to show at Leicester.
Euro2020 things you were slow to realise(rolling):
Jorginho is Italian
Paolo Souza (yes that one) manages Poland
I haven't even heard of Spain's goalkeeper.
I've read that the Turkish squad for this tournament is their strongest in years, but also very unpredictable. I mean, this year, they've beaten the Netherlands 4-2 and then drawn 3-3 with Latvia…
Rumours that Robert Sanchez might get the nod after his brilliant season at Brighton, although they will probably go with the lad from Bilbao.
Wrote a thing on the job that Shevchenko's done. Convinced myself Ukraine are gonna win it now.
I am supporting Ukraine, really looking forward to seeing them play!
can't make up my mind if this line about David Turnbull was deliberate or not
"create more than 100 goalscoring chances in the Scottish Premiership last season. It was not enough for Celtic to land a 10th successive title but, if Scotland are struggling to break opponents down, Turnbull could be the man to unlock staunch defences"
Great piece! Zinchenko is expected to play as a defensive midfielder right?
only Euro 2016 match i went to was Czech Republic - Turkey. Turkey won 2-0 and were good value for it, and their fans were ace. both sides ending up going out in the group but still got a soft spot for them based on that
I'll actually be at an Italian restaurant during the game. So probably pasta and Moretti.
Up the Turks!
oops misremembered this as being in Lille, it was actually in Lens but i spent the night in a B&B in Lille
I was in Lille for Ireland v Italy, gorgeous town