Ha! Way off then

Massolit Books and Cafe in Krakow. Technically my 'local' bookshop that sells English language books, even if it's a 2 hour+ bus ride away.
Can't find any pictures that really do it justice, but I very rarely leave without buying at least half a dozen books, new and second hand,
just looks like a nice countryside living room, in the best way possible
Difficult to say but i reckon the objectively correct answer must of course be Peter Harrington.
Lot of things to like about it, not least their roughly handsome Technical Director.
Serious answer
in Oia
I think books should be free so I feel uncomfortable in them all.
Don't know about best, but always enjoy a visit to The Watermill in Aberfeldy. Small but a really nice vibe. Good cafe and gallery too.
I love the book shop that's inside Salt's Mill in Saltaire. They always have an amazing and interesting selection of things, really well laid out and of course in an amazing space. Never leave without buying four or five books I'd never previously heard of.
Conversely I can wander around big chain bookshops for hours without finding anything I want to read.
Must be down to the staff they employ and the amount of freedom they are given I suppose.
Mr B's and The Salamander are godly.
Used to really like Mr B's, but the last time I went in one of the staff (may have been Mrs B, but not 100% sure) was really off with me. Like, really off. No idea why, save for that I had a bag on my shoulder and I reckon she thought I was a shoplifter. I bought one book to prove I wasn't and haven't been back since.
I love having a poke around here:
You never know what you might find and it's near impossible to come out with out picking up something interesting.
Also feel compelled to say: use second hand (not rare) bookshops whenever you can. Unlike libraries they can and will be kept alive if people use them, regardless of government funding, so if you like buying books for a quid 'use it or lose it'
Same goes tor libraries obv it's just that they can and will be closed regardless due to lack of funds
Jeez, I used to go in there all the time as a student 20+ years ago. Is it still on Otago Lane, slightly mildewy, patrolled by a very patient cat, and seemingly on the verge of closing forever?
Wouldn't say it's a favourite but felt obliged to share pictures of Voltaire and Rousseau in Glasgow for the pure chaotic spectacle.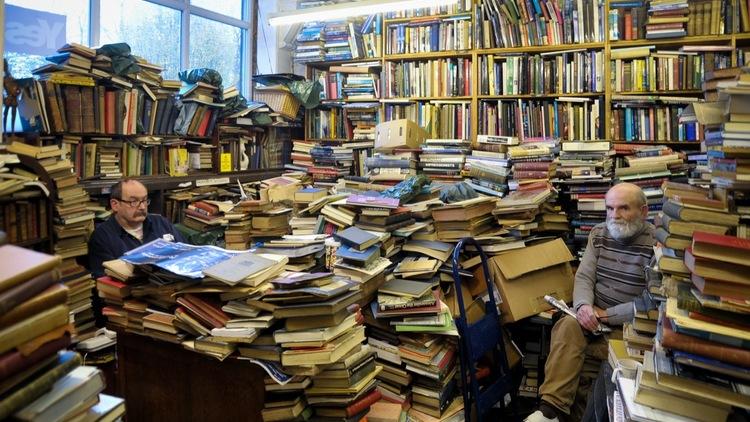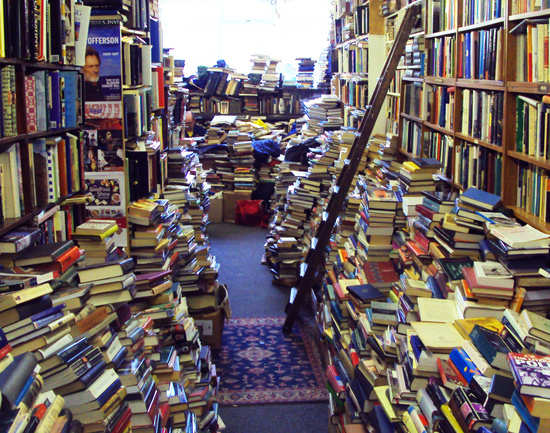 Not a book shop per se, but there's a book place in Manchester people might not know about. It's called Sharston Books, it's on an industrial estate on Longley Lane, sort of between Northenden and Sharston. Rooms and rooms of books. It's a bit out of the way and a bit…Hills Have Eyes, but mountains and mountains of books, a bit like the above photos.
Two come to mind Housman's, iirc still London's oldest radical bookstore and a great hub for political education events as well as having a great collection of theory/fiction. Would highly recommend checking out the downstairs section which has loads of super cheap books.
Skoob
IMO one of the best second hand bookstores in London found some excellent political theory\philosophy stuff there at great prices
this might be my platonic ideal of how a good bookshop should look
Genuinely gives me palpitations