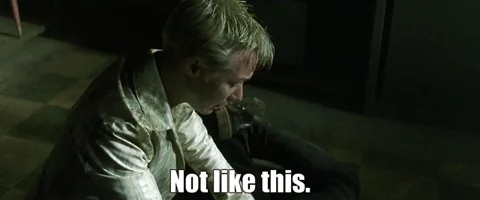 can't believe you've still got the halloween decorations up
Gatwick innit, not a whole lot of options
Going into the office again in a bit. Hope nobody throws any liquids on me today. Wouldn't want that to become a thing.
Those are perennial pumpkins
Good name for a Smashing Pumpkins tribute band.
Managed to cycle to work with a bit of a hangover, so I believe I'm eligible for some kind of award?





morning drinking is fun I don't know why more people don't try it
Frowned upon in the office
Yeah you are…for Biggest Silly Billy.
(But well done)
Lovely cool and almost dry morning, saw a work boat on the Clyde and was like wish I had job where I got to go on a boat.
woah the avatars move about the screen when you scroll now
got nicely settled into listening to some horrible music on the bus when one of my colleagues got on and chatted shit all the way in. day ruined.
Had no breakfast products in and went a bit wild so now having a bacon hot sauce croissant
King food
Head's gone, am in a meeting but I simply cannot concentrate at all. Just no interest, make it be the weekend NOW.
Stayed at my mam's after last night's gig - and was kept awake by her dog snoring and farting loudly all night.
Desperately want to go for a snooze, but I've got a boiler engineer coming around at an (as yet) unspecified time.