Just Deal or No Deal for me, I think. A quite Tory lady won £50,000. Weird day out.
My school was picked to be the audience and contestants for an episode of a kids' tv show. So one bit i was in the audience and another bit i was a contestant. I had to wade through a pool of gunge that was being defended by Wolf from Gladiators, and we had to answer some questions about Mexico. No, it's not on YouTube.
Live at the palladium. It was a bit shit but my housemate got tickets for free and it meant I left work at 3, so that was good
I was in the crowd on Letterman once. Don't remember a thing as I drank moonshine on the city streets early.
Did see the Naked Cowboy though.
Was in the audience for The Friday Night Project (was that what it was called?) in circa 2008. Featured an early days Lady Gaga as the musical guest.
I remember realising that TV studios are a lot smaller than they appear
I went to the recording of an episode of Red Dwarf way back in early 2012. Was a strange night. Me and my mates went down to London that morning (me on the 7 hour Aberdeen train no less) and then got the train to Shepperton.
We were corralled into a waiting area thtmst was full of needy dudes. There was a technical issue so we were kept in there for ages. Then we were moved into the studio and we got front row seats. It was fascinating.
They were having a problem lining up the shots with the previs effects, so it was strange having to do the same jokes over and over and having to laugh. Plus, the show was the end of the series or an arc or something, and it lacked so much context.
It was great fun though! Enjoyed it. Then we got the last train back and then a taxi to meet a shit load of DiSsers at a night at the Camden Head (I think) and I merged my IRL mates with you filthy mob.
It was full of old DiSsers and definitely @marckee, folk like ehwhat and brusma and the like.
Jim'll Fix It

Had my photo taken with Jimmy Saville afterwards





Have I Got News For You a few times, particularly enjoyed the one which took forever because Gordon Ramsey was getting so angry at the jokes at his expense.
Late Show With David Letterman. Got to see Justin Bieber playing the drums & Eminem doing a comedy "bit", but was otherwise very weird and very boring.
I think those are the only ones, if I remember right.
I saw the filming of an episode of Perfection featuring Nick Knowles in Glasgow.
I was a bit hungover and really couldn't be bothered but we had tickets already. There were about twenty of us in the audience. Knowles seemed like a nice bloke and kept doing Q&A with the audience during filming breaks.
I think we (I) got told off for nodding at the right answers because I like answering questions.
In common with just about anyone else who lived in Birmingham during the 90s, I went to watch a filming of Gladiators when I was a kid.
I was in the audience for the regional bit of Childeren In Need once when the beeb were still on Oxford Road.
Also at the MEN when they recorded some of this it was fucking awful and still weird now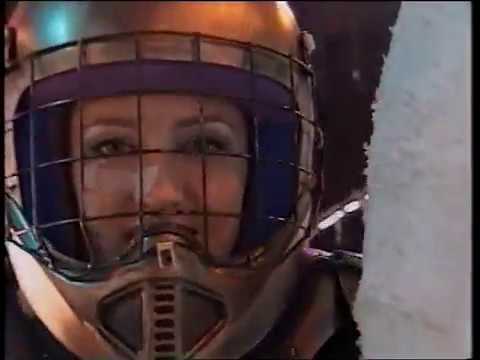 I think the Camden Head night was the A-Z night or maybe it was Dammit!
I went to the filming of Adam Buxton's Bug show when that was made into a brief TV series.
I was also in the audience of a Letterman show, when we were in New York.
The guests were Tim Robbins, Amy Sederis and Jimmy Eat World performing Bleed American (this was on the 6th Sept 2001, so just before they changed the name)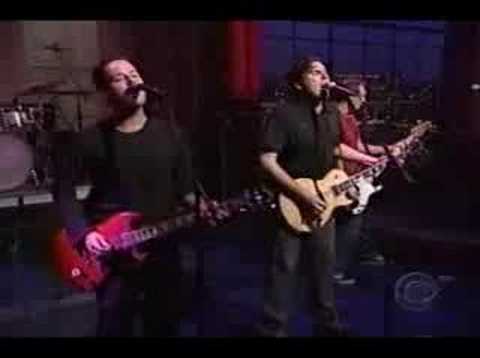 Been to live at the Apollo a few times. It's just a comedy gig, but fun.
Qi once. The guests were rubbish and it was boring.
been in the audience at the snooker… does that count?
you get to see the cameras moving about and the presenters standing in front of a GIGANTIC lighting thing to do the intro and that
Yeah on Jeremy Kyle.
Jeremy did a quip and it did a close up of me laughing. I know got a fact I wasn't laughing at that point too
One of my uni housemates liked applying for tickets
We saw Later With Jools (oasis and Bowie) and TFI Friday (shed 7 and Van Morrisson, for some reason our group were all convinced Bjork was going to be on and were very disappointed when she wasn't )
My best friend and I fell out with ticket getting guy about cleaning and missed out on a trip to The White Room episode that featured Iggy Pop in his see through plastic trousers
I guess so. And in which case, me too. Saw that gangly fella and everything
remember them filming the audience at the start before the players came out to get some reactions they could splice into the coverage. had to do a little bit of gentle clapping, then some cheering, then finally going mad like someone just hit a 147 in a final frame decider kinda thing.
quite interesting seeing behind the scenes