Very of it's time but he was good on Big Breakfast.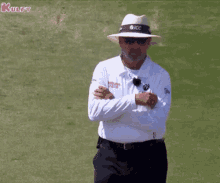 Can't stand him, just has pure knobhead PE teacher energy. See also: Matt Dawson.
Ratio on the last one

fingers crossed he does. hope Warne goes with him
He once shared a "I'm setting my clocks back to 1940, when this country had some balls" meme. Chortled at the time but with this week's news it does seem a bit of a gateway drug to becoming Lord Gammon.
I used to love him back in the day when you got that beautiful cover drive and even the occasional over of surprisingly effective off-spin: was one of my fave cricketers to watch



Looking back on it now, of course, didn't have to hear a word from him in order to enjoy those things.
He's been a proto-Boycott for a long time, far too self satisfied and self righteous.
On a Cricbuzz panel show in April 2019, Michael Vaughan couldn't get enough. "I see glimpses of Sehwag in Prithvi Shaw… he's obviously young but has great technique. He is a wonderful player with plenty of great years ahead of him." Shaw was 19 years old. On the same show just over a year later, Vaughan's tone had changed. "He's been around for a few years now… yet is still very inconsistent. He's put on a pedestal too soon, maybe he's not as good as we first thought." Shaw was 20 years old.
Vaughan in a nutshell
Would be nice to know what Root thinks of it all given he was at Yorkshire the whole time.
proper laughable him kicking up such a stink about being called out for making racist comments, then
I mean, even more so
To be fair to Vaughan, If you'd asked me what I thought of, ooooh, let's say Zak Crawley a year apart it'd be similar