They're going to get a mediocre score, aren't they? Bah. I'm throwing them a 5.
first album is decent, though the massive amount of hype around them at the time really put me off for a while
never listened to any of the other albums in full, only heard various singles which have been a mixed bag.
3 i guess?
Really love those first four albums, think they tweaked their sound enough to keeps fresh. Very fun live. Always meant to listen to the Sparks collab and never got around to the last album but isn't it pretty much just Kapranos now anyway? Gone with a generous 4.
Still love this: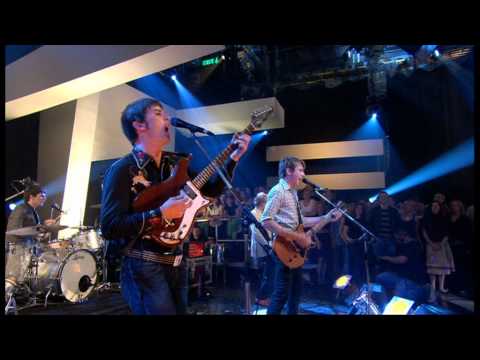 4/5 - have enjoyed all their albums and seen them live about four times, but they're not quite at 5 level. Very solid go-to band.
Don't agree with this, if there's one thing DiS loves more than an American band it's a Scottish band.
Obviously in the pocket of Big Scotland…
Probably my favourite big-indie guitar band from that era. Would take their debut over anything by the Strokes, White Stripes, Interpol et al. As already covered they quickly fell off, although there is some good stuff on the second record too.
Still love the debut though and for nostalgia Google purposes alone they will never be less than a 4 for me.
4
Decent band. Lots of good tunes across the first three albums - haven't listened further than that. I was never a huge fan of that NME driven new rock scene of the 00s, but FF were probably the best of the lot. Aside from them and maybe The Futureheads, are there any of them left that have any credibility these days?
4/5
Maximo Park? I think their debut is the best record to come out of that era/scene and I don't think they've fucked their reputation since.
One seven out of ten album that was seriously derivative then one six then a load of shite. Overrated by people made to listen to them because they were young at the time but really not up to scratch. 2.
Really liked take me out. Really not liked anything else they've done. Thought the first album was massively overrated. Thought it was a bit shit myself. Probably a 1.5, not sure whether to round up or down.
One great floorfiller then a disappearing act.
2/5
can't listen to them because of bad associations with that whole period of time personally. they're fine i guess. 2/5.
2/5. A great song followed by a few good songs then mediocrity, and that's about it. Difficult to get excited or annoyed about them really.
A 2.5 rounded up to a three - less dismal than a lot of the landfill indie bands that were around at a similar time but beyond the debut who could care less - the epitome of average.
Do You Wanna is still astonishingly shit