Ok, didn't realised they did the 88 shows, they didn't play Brum then so that makes sense to me. Saw them on their 2nd and 3rd UK tours then. That Edwards No 8 show was something else.
In my head they're one of those out of reach, before my time 90s US bands, so it freaks my nut (to this day) that I have a couple of friends only a year or two older than me who saw them on their final tour in 2002, just down the road in the Nerve Centre in Derry of all places, where I'd soon be watching poorly attended shows by friends' bands.
I bought a download of that show from their archive site, it's good and all
My immediate question, like most people I assume, was to wonder what Minor Threat's dog was called (and, on the off-chance, whether it wrote any of their music). The second item in my search results amused me in the context of the opening post:

Find Fugazi's work usually gets better each time I go back to it, and they're a 5 for me… I'm still none the wiser about the dog.
I'd like them a lot more if Ian MaKaye didn't sing. Some undeniable tunes though so 3
It was a good time for rock bands. Jesus Lizard and Fugazi were both a thing. I think I saw them play through same bill. Saw Fugazi a number of times; never less than perfect.
Fugazi are by a long distance my favourite band of all time. I discovered them at 14 not long after my dad ran out on us and their music and ideology shaped who I would become as a teenager and adult. The ethos they worked under and never lost sight of is inspiring enough, but they also wrote some of the most incredible sounding records I've ever heard. Everything about them I adore.
Picking a "best" album is like picking a favourite child. Each is brilliant in its own way and could top the list of most other guitar bands. I chose the argument because it is the most varied of the bunch while also sounding coherent and fluid throughout. But really I could have chosen any of them.
I saw them on Halloween at Leeds uni in maybe 2002, it was one of their final shows. They were incendiary. They played for 2 hours and came back for a 30 Min encore. I took 2 mates from school along who had never heard them before and they were blown away. They were supported by electrelane too who were also great.
For a short while I had Ian mackaye's phone number. I actually wrote my dissertation about Marxism and punk music - essentially the idea of the producers of the music owning their own output and not submitting to the label's will. It mostly focused on Ian and fugazi. I wrote to him asking if I could speak to him about it and he replied very quickly with his number saying he would be happy to chat. I didn't take him up on the offer because I felt unworthy and I probably would have wasted his time (I was shit at sociology and i maintain 15 years later it was the right decision). Still. What an absolutely top chap he was for obliging me.
In summary, I love them and if they don't make at least the top 10 I'll be disappointed in you all.
It's The Argument and In On The Kill Taker
I'm always a bit surprised that Kill Taker isn't the canon 'best Fugazi album'. I suppose the second half is less essential but that opening run of tracks is surely their peak
Their best song imo: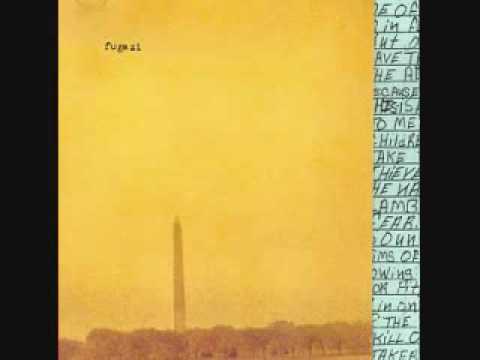 I enjoy how the bassline is basically Low Rider and then the breakdown bit was later ripped off by The fuckin Wombats
here you go, a nice brief 12 track overview of their career:
yeah but "untitled" on Argument is barely a fair option

Hadn't heard a note of Fugazi until yesterday evening when I did some homework for this thread. I'm hooked. They're really rather good you know.
you should give Argument a go before completely tapping out
Love that you're enjoying them
motion to have non-canon (unless you want them to be) Minor Threat and Rites of Spring polls?

Go right ahead! More than 50 votes and they'll go on the board.