Absolutely nailed it. See also: Two Door Cinema Club.
Tempted to bump them to 5 for the way he sings Berlin in The Bay
Wouldn't turn em off, wouldn't turn em on. Same live. Entertaining enough. Wouldn't walk away from, wouldn't actively walk towards. Basically an absolutely fine, solid Radio 6 indie pop act. 3/5.
A member of Metronomy is in our NCT group, so I'm probably a bit biased here. BUT no other HGATR entry has invited me to out for their birthday, or attended my birthday celebrations, so automatically they're doing better than anyone else. It's a five from me
Listening to them is like a meal in a chain restaurant at an out of town retail park. There's minimum level of acceptability reached but it's so blandly average you've forgotten it five minutes after you've finished.
My word, some of these comments don't chime with me at all, I think they're a wonderful band, and one of the most distinctive of the last few years, continuously playful and imaginative, looking at that single list, it hurts me to pick. They have a fantastic way with their artwork and videos, always a brilliant marriage of content and imagery and I think they had a really strong run of albums.
Pip Paine's got some brilliant moments, it was the inexplicable Black Eye Burnt Thumb that hooked me in sounding as it does like not much else, it could be a hiccupping soundtrack to a video game about, I dunno, pirates.
Trick Or Treatz's ghostly womp sounded pretty distinctive and caught my ear too, overall though an odd, quite raw debut with a lot of promise that imo was largely realized on Nights Out where I think a tighter focus helped them make a great record. It's spindly, dry and kind of thin sounding, still using that strange Pip Paine sound palette that I enjoy a lot despite also thinking that cumulatively it nudges up to border of irritating. A true shitload of hooks and energy on this album, it pings with little funny ideas and makes me actually want to dance, or a least fidget, I love every track and maybe Heartbreaker is the one but this is a lovely Cure-esque number, all those evenings spent disappointed on dancefloors, yeah
The English Riviera felt like a pretty huge change at the time, airier and more organic, a more dynamic record too. They've smoothed off some of the angles but it was a change at the right time, a record meant for sun and blue skies. The Look is a perfect song, that pier end organ is absolutely delicious and those backing vocals are a nice example of how they wring every bit of interest they can. Also want to shout out She Wants and Trouble, particularly the reverie it slips into for last minute or so, as also being particularly fine. I never really got on with the last couple of tracks, feels like they shoved the most eccentric moments right to the end of the record but they've grown on me. Love Letters moves even further from their skronkier sound and it's not really got huge standout bangers but I don't think that makes it a bland album, it's subtler but still unmistakably them, I'm Aquarius is a sumptuous tune and Reservoir is very sweet. Summer 08 purposefully harks back to Nights Out but is its own beast and not hollow nostalgia, I'm a big fan and particularly love 16 Beat, this video of it is very stylish and Anna sounds brilliant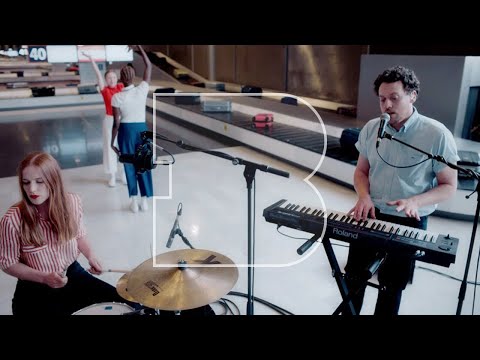 I drifted after this, Metronomy Forever is the first of their albums that disappointed me, too many short snippets that didn't go anywhere, Couple of great tracks but I think it managed to be overstuffed, I tried hard with it too, I've only given their latest a couple of listens, will go back to it though, not made my mind up about it yet.
Might say more about the acts I see or my general lack of activity that they were the last band I was in a pit for, very much against my will, horrible. 5.
Just listening to Nights Out again. Was pretty obsessed with this album when it came out. Reminds me of a time in my life when I was going out and taking piles of drugs every weekend. I feel like their sound had become a bit more refined and tasteful by the time English Riviera came out. Gone was the slightly chaotic energy of Nights Out. They haven't really caught my attention since. I think he produced a Roots Mabuva album (or some of it). That was pretty good.
The English Riviera is an all-time great and Love Letters and Summertime 08 are both pretty good. Been great live both times ive seen them, especially back in May.
Giving them a 4 rather than a 5 because at the time of the English Riviera they seemed like they could go on to be one of the very best bands of the decade and didnt, but they are still awesome.
That whole prechorus is frigging genius. The interplay between the lead and backing vox from "it's not Tokyo, if you want to go, I'll take you back one day" is brilliant
Still waiting for Aretha to return any of my messages. 1/5.
Shocking lack of respect on her part
Originally read this as NFT Group and was about to revise their score to one
Shocking lack of r.e.s.p.e.c.t*
Remember seeing them in a festival near my house just around the time they released Nights Out, I think, and it was just really cute and quirky. They were, surprisingly, my highlight of Primavera this year too. Seem like a GBOL. 4.
Lovely, fun band with a discography full of bangers. Looking at some of the negative comments, I feel a bit bad only giving them a 4.
Their 2019 album got a lukewarm reaction, but "Whitsand Bay" and "The Light" were top-tier Metronomy to these ears. Have yet to spend time with their latest.
Salted Caramel Ice Cream is a bop too!
Missed this yesterday. Generous 5, not sure they've made a truly outstanding album but they pretty consistently make 4/5 albums with killer singles (that singles list would be an outstanding Best Of) and are great fun live. All of that is very like Hot Chip, thinking about it.