Yeah, it's alright. Decent read
Yeah it's great and very frank about how Thurston treated her.
When I was a teenager and thought I'd discovered them by myself (knew them for ages as the band from The Simpsons) I listened to them so much and discovered a lot of great sounds. Soon after, Rather Ripped came out - that's the only one I have on vinyl and sounds incredible - great late period album. Sister is their greatest record. Daydream Nation didn't completely click with me… Sister, Goo and Dirty were the ones I played all the time back then.
I think they're great today, but don't listen to them too regularly. 4/5
It's meant to provoke a response, just a bit of dramatic flair (seems to have worked). It's about the kinds of terminal decline bands find themselves on after many years, he's not literally saying the fall sound like SQ. I don't necessarily agree with what he says, but you can at least appreciate the argument. Definitely not nonsense
I think excerpts were published online and he is not a nice person, based on what I read.
Not an obsessive fan at all but clearly one of the best and most influential rock bands ever, tapped into a great sound and great chemistry between them. So many bands starting off basically ripping off their sound
Would've loved to have seen them live. Thurston's always turning up at tiny European festivals, must've seen him 10 times in his various guises without him ever being the headline act
5, purely for inventing the entire noise genre
Yeah, he had several opportunities to not be such an arsehole and passed up every one. Nice man.
think them and Nina Simone would both be right near the top of acts I'd wanna go back in time to see live at their pomp
Saw them at Reading 91 subheadlining under Iggy Pop and they were tremendous, redefined my little inexperienced teenage brain's idea of what live music could be (Iggy was brilliant as well). The albums are a bit patchy and there's a good few I'll never listen to again, but at their best (Sister, Daydream Nation, Murray St) they're amazing. Strong 4 from me.
Because of the off festival incident?
In retrospect I'm glad I did it!
Really dull but I love Mote, but even that would be better with the drone nonsense.
2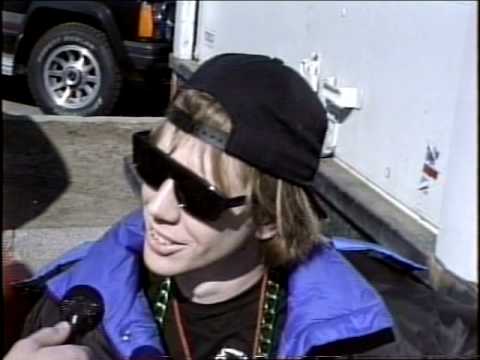 They're horrible the whole way through this, and 7 mins in one of them calls Daniel Johnston a freak. Great dudes!
I think they're all over 30 here also
Daydream Nation, Goo, Dirty, Sister are all untouchable for me. Although I say I love them, I haven't gone much into their other stuff. I wish I saw them around the early 90s, saw Mudhoney but not them.
Not belittling many who don't like them, but it is pretty cool to state you hate them to be honest.
5 for me.
It's a 5 from me. I know they're one of the indie sacred cows but there's just something so fucking cool about them. And that Raymond Pettibon artwork for Goo is genuinely iconic.