Is this the filth thread?
have one of these, mate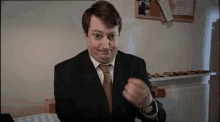 Sick of this. Absolutely sick of it.
…like this, I suppose!
How must we show this respect?
I cannot respect you any more than I currently do
You know, just by saying stuff like "I have the utmost respect for you" or "I respect you so much" when replying to my posts or threads. Simple stuff really but it would go a long way.
I'll see what I can do xx
Very disrespectful question.
Erm… how about you try a bit harder then?

It's high time some of you lot started showing ant a bit more respect around here
Yeah, I agree. I've been saying similar myself actually.
I actually respect you less for making this groveling thread