Agree on RH who for a long time was simply having a mid-life crisis in public but … Buckles???
Get my four year old niece a lucrative exclusive podcast deal, stat!
It was his work on UFC that got him back on the radar and eyes on his podcast
Wikipedia describes it as "a short-lived partnership"
Watched one of his vids that had a wrestler on. Might've been the undertaker
This is undoubtedly a thing. It's something Trump used to try and emulate at his rallies - just try and develop the ability to talk endlessly for hours about nothing in particular.
"So you're an x fan how do you separate the art from the artist, cancel culture is difficult, i touched a few bums in the 90s" every single episode
it's the "Gish gallop" innit. Ben Shapiro does this in a more traditional sense when he's quote-unquote "debating" people. The idea of a 3 hour Shapiro/Rogan podcast actually makes me wonder if we shouldn't all still be living in caves
I've listened to Adam Buxton a lot, but have reached the point where I can't get to the end of an episode anymore unless it's with one of his mates.
The only good ones are where the person being interviewed basically takes the lead and Buckles just chimes in with a few comments here and there. He's a wingman, not a lead. Also, whenever he does try to lead, he always leans into 1 of the 4 things he likes talking about, number one of which is cancel culture and why it's a bad thing. The best ones are the ones where he's interviewing Joe or Louis and that's because they're friends already and both know him well enough to basically take the lead and let him chime in with his comments like he enjoys to.
He gets lucky with some amazing guests that he has some great episodes, but Buckles himself is a terrible interviewer and it's not a natural fit for him in my opinion.
you know when you are watching one of those 100% legal football streams and the chatbox at the side is just full of people going RIP JOE ROGAN… what's that all about
It's like he wants to be pulled up for some dodgy behaviour he's gotten up to in the past. It's bizarre.
Hmmm. Shades of Louis CK there.
Newsradio was really good! Great cast with loads of quality people - Dave Foley, Phil Hartman, Stephen Root, Maura Tierney etc - but also Rogan and Andy Dick. Although Rogan wasn't who is he now, remember him being alright in this
I wanted to rebut this but I've realised that I have an unconscious bias for only listening to the episodes you've described and that you're absolutely right. He's coasting on goodwill from the adam and joe podcast and since a few people here pointed out the cancel culture thing I've not been able to unnotice it and am sort of worried about what it implies.
Also I've never seen any of his stand up (and don't want to) but I saw this video get circulated recently which was a pretty funny takedown of why his comic material is terrible.
CW: There's an R word slur in here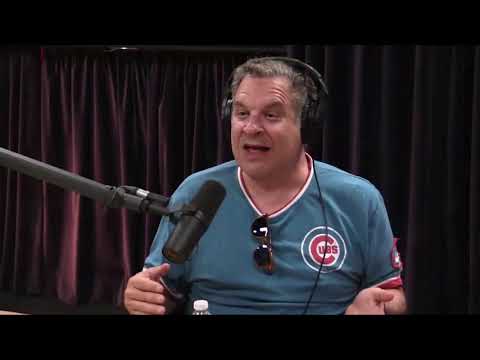 Don't think I've ever listened to a second of Joe Rogan and I'm not going to start now.