Read this really good article last night and now I am stupidly excited to hear the new album. Anybody else?
Yeah I can't wait, although I'll be surprised it if tops Sprained Ankle. I like the singles so far but they're maybe missing a bit of the rawness of her debut. Early reviews seem a little mixed too (the skinny gave it a three).
She certainly set herself a high bar with Sprained Ankle that's for sure. I haven't read any reviews yet; probably listen to it a few times before checking what the critics make of it.
I'll be gong back to last year's Touche Amore album as well, had no idea she contributed to a song on it until yesterday
don't trust The Skinny

yeah it's the last song and was a single, it's much more in her style than Touche's normal style but it does fit (given the whole album is about the death of Jeremy's Mother, it's her voice at the end)
actually, that's unfair, it does sound like Touche still, just without the distortion.
She also showed up on a song on Frightened Rabbit's recent EP (I guess it wasn't downbeat enough for them).
She's only come to my attention in the last 6 months or so, so the significance of the collaboration would've gone straight over my head at the time it was released
Anyone catching her upcoming shows are in for a treat! That show at Bush Hall earlier in the year was stunning. It was mostly Sprained Ankle material but Funeral Pyre and Turn Out The Lights both sounded HUGE!
yeah fair, I'd seen her name about but only really started paying attention because of her amazing Jawbreaker cover:
Really looking forward to this record and seeing her at the Brude. Usually don't like going to see bigger acoustic shows because of people talking through them but decided I like her enough to risk it.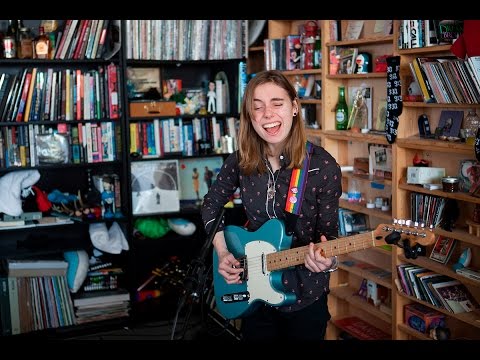 She has another tiny desk concert coming soon as well. I love this song, shame its not on the new album
Really looking forward to this tomorrow too. Have purposely avoided any of the singles so I can listen to it fresh as a whole. That's cool she contributed to the touche amore record, that was a favourite of mine last year. And the track she guested on on the fr so was the best of the 3 i thought. A real talent
I've only listened to one of the two pre album track releases once. For the same reason as you
*want to put a comma between releases and once… releases, once… I have too much time on my hands
She also did the only Elliott Smith cover I like
On first listen, this is very good.
Listened to the first record on the way to work this morning. Absolutely brilliant.
I'm a few listens in, I was initially put off by a few of the piano based songs but they're really growing on me (especially Televangelist). The run from Happy to be Here to the end is amazing.
On 1st listen to this… wow, it's pretty great.