This round starts tomorrow
Round 7 - An artist or Band from Latin America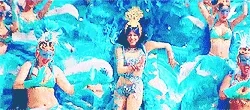 I'm expecting good things here! So much amazing music in Brazil alone, but I hope we get plenty from the rest of LatAm.
Enjoyed discovering and researching artists for this round, have managed to make a shortlist from scratch & be torn on what too submit within a few hours this morning.
GAH! someone's already submitted from my artist
Don't know anything about the music of Latin America so have submitted something that I don't actually like all that much because I literally couldn't think of anything else.
???
I can't submit yet, still showing remixes as active
For some reason in this league an email is coming out an hour before the last round closes with a link to submit for the next one. You might not be getting them if you're using the app.
Nope this happened with the app push notifications as well
Cool someone got to my one idea already
Haha someone has chosen my preferred artist already too. It best be a good track!
no idea yet, but will get something fun in later on Im sure
Cool had another idea and someone else got that too, might sit this out I'm not gonna win anyway
Just going to leave this here for anyone that's struggling for ideas.
It's not about the winning, it's about the coming joint 19th!
On average, jazz. But more interested in quality than genre. I'd rather have good noise/punk than bad jazz.
Whichever one I pick will be the wrong one, won't it?
Whoever picked a certain Peruvian band ahead of me will definitely be getting points cuz it's a banger