makes sense as a description actually but not one i would have thought of myself!
not on an album but their version of Rocky Road to Dublin is great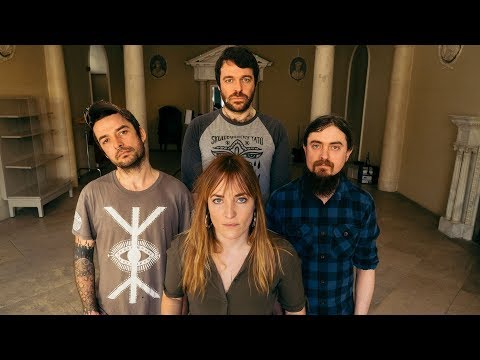 Can't wait to get amongst it later
Was all about Sunn Ooooooooooooooooooooooooo))) for me (excited to see them on Monday!), but will be checking out Teebs, Steve Hauschildt, and Zonal now that I know they're out today.
Holodrum have put a new track out and like the 1st one it is completely up my street can't wait for the Soup Kitchen next week.
Today's all about the surprise EP from Puppy, where they've gone back to the DIY sound of their early (pre-record-deal) material but with the undeniably improved musicianship that's come with touring. It took me a little time to come around to their album precisely because of that step-up in production and polish but I ended up loving it, so this is a very interesting choice imo.
Don't know if anyone's mentioned Desert Sessions yet in this thread, but I enjoyed it on my way in. Some nice grooves.
The weird track is weird, but that's fine. Everyone's having a good time.
Big thumbs up for Alcest so far and enjoying swans too albeit I'm only a couple of tracks /half an hour in.
Black Marble and Steve Hauschildt for sure
The live/film version of Springsteen's Western Stars is out today. Sounds lovely.
Got a bit mixed up and searched Google Play Music for "swann o)))" there.
0 results
Crackin cover band name, because that's what the world needs - faithful Sunn O))) covers
That is a collaboration that could work brilliantly.
Ok so I'm not convinced by this swans record on first listen. Quite prepared to believe its a grower but on first listen I've found it's dragging in a way the previous three never did.
FYI to the Black Marble fans looks like they've announced dates for Manchester and London in February
Would've been all up in Sunn O))) today but for reasons inexplicable they've decided that despite the fact it's supposed to be the other half of Life Metal, it's vinyl/digital only, so pretty unhappy about that.
Anna Meredith pushed back a week.
FKA Twigs pushed back two weeks.
Alcest might be the main grab, I love Kodama but I'll admit I don't know much else by them.
Cigarettes After Sex might get a look in, but I question how much Cigarettes After Sex I actually need after their first album…
What I've heard of Teebs is lovely, super-relaxing Brainfeeder vibes.
Lankum sound right up my street, love a bit of doomy folk. Will post a vid for The Wild Rover:
The band , I'm not just going on a tangent about a recent clothes shopping trip.