Hey.
We're very pleased to present the new Dictaphone album. The Belgian-German band around mastermind Oliver Doerell returns with their fifth album named "Goats & Distortions 5".
PRE-ORDER
den350 | LTO · Daear
den356 | Dalhous · The Composite Moods Collection Vol.2: Point Blank Range
den361 | Dictaphone · Goats & Distortions 5
OUT NOW
den343 | Saffronkeira with Paolo Fresu · In Origine: The Field Of Repentance
den344 | Subheim · ΠΟΛΙΣ
den345 | Mansur · Karma
den346 | Eraldo Bernocchi & Hoshiko Yamane · Mujo
den347 | The Eye Of Time · Acoustic II
den348 | Origamibiro · Miscellany
available formats: Cd · Vinyl · Digital
Please consider that the vinyl editions of den347 & den348 will arrive with a delay of minimum four weeks because of bottlenecks at the pressing plant.
Thanks a lot.
Denovali
DICTAPHONE · GOATS & DISTORTIONS 5 CD | 12'' | DIGITAL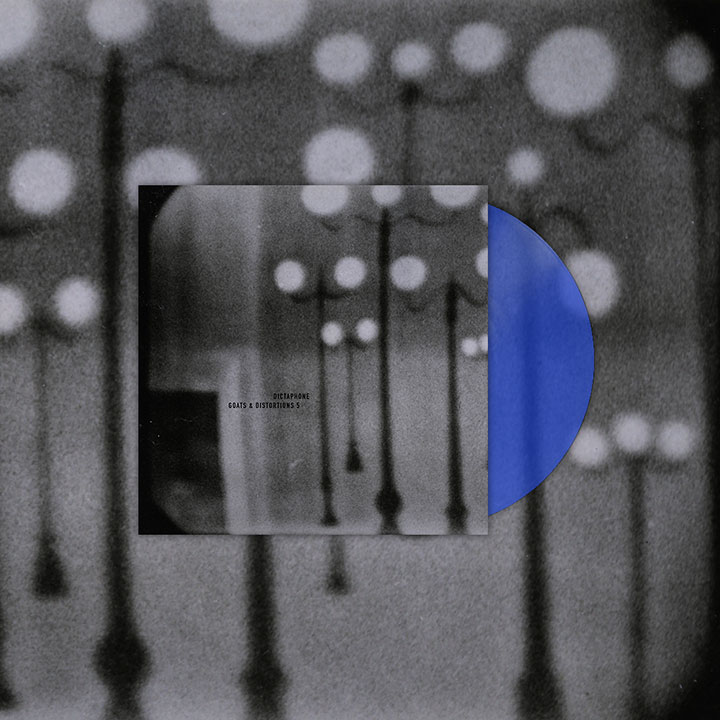 After their last highly acclaimed album "APR70" Oliver Doerell is surrounded again by his longterm bandmembers Roger Döring (clarinet & saxophone) & Alex Stolze (violins). In the last 3 years they dived even deeper in their "morbid instruments" concept. An old tape machine, which Doerell found in a hidden room in his house in Berlin served as soundsource, ghostly sounds could be heard and the machine died soon after being sampled. For the first time Roger Döring played a bass clarinet on this album and after the recordings lost it in the subway on his way home…
They improved their skills to use rustle as a instrument and are supported by the voice of Helga Raimondi in the track "your reign is over". The result is an ungraspable, ghostly, spooky album consisting of ten different journeys into the experimental sound world of these unique compositions.
The history of Dictaphone: In 2000 Oliver Doerell found a partner in Berlin's Roger Döring, who shares Doerell's love for the Brussels-based music of the eighties. In the following years the duo and several guest musicians (e.g. Stephan Wöhrmann (SWOD) , Malka Spigel (Minimal Compact)) released the critically highly acclaimed "m.= addiction" (2002), the "Nacht" EP (2004) and "Vertigo II" (2006) via the City Centres Offices label of Thaddeus Herrmann and Shlom Sviri (Boomkat, Modern Love). In 2009 the violin player Alex Stolze joined the band. During their two decades of existence Dictaphone played shows in more than 20 countries with festival appearances at Mutek, Transmediale, Unsound, Benicassim & more. Their latest releases were the praised "Poems from a rooftop" (Sonic Pieces) from 2012 and the "goats & distortions 5" predecessor "APR 70" in 2017 on Denovali. Denovali also reissued the past repertoire of the trio in 2017. Oliver Doerell composed for more than 30 pieces of Modern Ballet and BBC documentaries.
Praise for Dictaphone:
"minimalistic and subliminal elegancy" (ARTE)
"timeless, unusual & beautiful" (Colin Newman)
"Dictaphones gives warmth to the concept, your thoughts a body and atmosphere to the music" (Spex)
"This is the music to fall in love with over many evenings, each subsequent rotation capturing another moment of time to be recalled in the future. Highly recommended" (Headphone Commute)
"When played from a rooftop, this music may be as quiet as a poem, but it carries the power of a manifesto." (A Closer Listen)
· Listen: DICTAPHONE - GOATS & DISTORTIONS 5 [CD|LP BOX|DIGITAL]
· Cd+LP: Denovali Record Store - Online Store for Electronic, Ambient, Jazz, Drone, Soundtracks, Indie, Noise, Modern Classical & more
· Download: Denovali Digital Store - Digital Store for Denovali Records Releases
Vinyl
· thick sleeves + thick printed inner sleeves, 180g vinyl, free download code
· limited edition: 400 pieces on clear blue vinyl
· price: 18.00 euro
Cd
· nice digipak packaging
· price: 13.00 Euro
DENOVALI WORLD WIDE WEB
www.denovali.com/booking
www.denovali.com/festival
www.instagram.com/denovali
www.twitter.com/denovali
CURRENT DENOVALI RELEASES
den58 | The Mount Fuji Doomjazz Corporation · Succubus
den81 | The Mount Fuji Doomjazz Corporation · Doomjazz Future Corpses
den84 | The Mount Fuji Doomjazz Corporation · Anthropomorphic
den86 | The Kilimanjaro Darkjazz Ensemble · From The Stairwell
den259 | The Kilimanjaro Darkjazz Ensemble · I Forsee The Dark Ahead, If I Stay
den260 | The Kilimanjaro Darkjazz Ensemble · Here Be Dragons
den317 | Saffronkeira · Automatism
den318 | Ricardo Donoso · Re_Calibrate
den319 | Mario Diaz De Leon · Cycle and Reveal
den320 | Petrels · The Dusk Loom
den321 | Matthew Collings · Uzonia
den322 | David Norland · Glam Tear Stain
den323 | Bersarin Quartett · Methoden und Maschinen
den324 | Edouard Cheritel · Suite No1
den325 | N(57) + Signals Under Tests · Disrupt / Construct
den326 | Asfast · The Prime Same
den332 | Michael Vallera · Window In
den333 | Philipp Rumsch Ensemble · µ: of anxiety x discernment
den334 | Ricardo Donoso · Content
den335 | Robin Schlochtermeier · Spectral
den336 | Mansur · Temple
den337 | Prairie · And the Bird Said: Cut Me Open and Sing Me
den338 | Sankt Otten · Lieder Für Geometrische Stunden
den343 | Saffronkeira with Paolo Fresu - In Origine: The Field Of Repentance
den344 | Subheim - ΠΟΛΙΣ
den345 | Mansur · Karma
den346 | Eraldo Bernocchi & Hoshiko Yamane · Mujo
den347 | The Eye Of Time · Acoustic II
den348 | Origamibiro · Miscellany
den350 | LTO · Daear
den356 | Dalhous · The Composite Moods Collection Vol.2: Point Blank Range
den361 | Dictaphone · Goats & Distortions 5