Ah that's bruxing…what they do when they're really content. Like purring.
Can I just take my garden rat in or are domestic ones different?
They're different but I know breeders who do rescue them and they can be very sweet. People do breed from them and that breed is called agouti (my first one, and by the looks of it this one in the video have a bit of agouti in them). Best stick to domestics like that lad though

delighted to announce that i bought one of these cat toys and my rats love them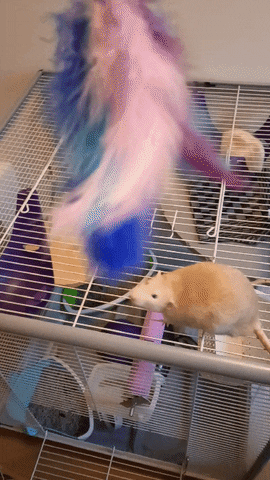 good cos they've destroyed all the other toys i got for them
poor lads get ill very easily though

didi was sneezing and the vets gave me antibiotics but he carried on and then started making noises when he was breathing. then i looked online and realised they'd given me the less effective type of antibiotics so i had to call them on the weekend and get them to give me the other type. day after i started giving them and he's already doing much better
tony also sneezes a lot but it's never got any worse so i think he's just a sneezer
Gws ratties
I used to do a steam session with mine and it was really helpful. I'd just put the shower on hot and sit in the bathroom holding them
Really breaks my heart how ill they get
Awww. We did this with a one-week-old MiniWza.

Looking through some old photos and found this and noticed it's a double exposure…one of my rats noses in the middle of the flower



When they do this when it's time to let them out

Ernie and Didi have also started licking my hands all the time which is ridiculously cute