Great execution but personally I don't think I'd like my entire house to look like a nightclub bathroom.
There's a door in there straight out of the Nostromo from Alien.
i drive past there all the time. amazing. i like low fell but not sure anybody else does enough to spend £500,000 on a space morgue.
like how the front has huge windows so you can drink in the vista of some old garages and abandoned wooden pallets…
One of my mates lives about 2 minutes' walk from there, so I might try and get him to have a look around.
Swift screenshot of this so we can fit @marckee up if the place ever gets robbed.
Definitely haunted but I'll give it a go, always wanted my own gift shop
I can't stop watching this and imagining what it would be like if you went home with him (it's obviously owned by a single man). It's very American Psycho.
Also, the kitchen is wild. A million cupboards and the world's least logical hob placement, plus the tiniest table and chairs in that cavern of a room.
This might actually be the most unhinged of all of them. How do they keep thinking "hmm, maybe just one more?"
I'd think it was great, if it was a spaceship instead of a house.
https://www.zillow.com/homedetails/7221-Beverly-St-Annandale-VA-22003/51881243_zpid/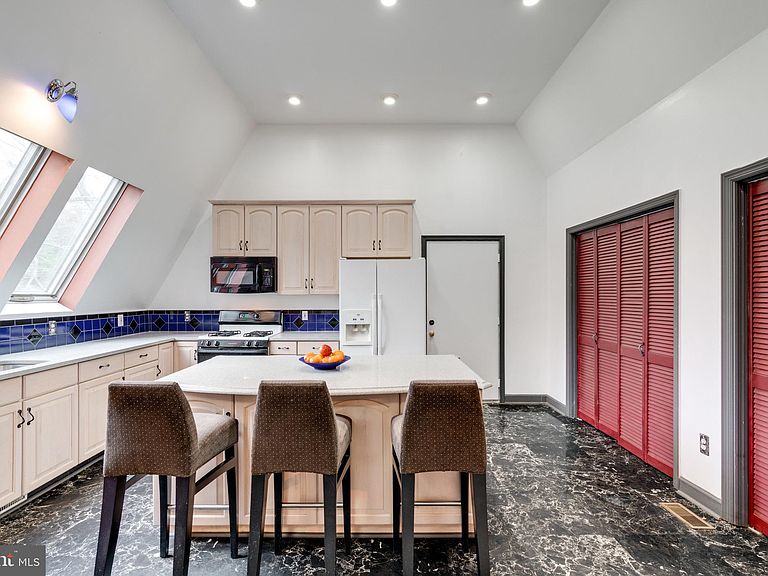 Criminally shite interior/decor.
I mean, it's not actually that special outside, other than the dome factor, but still.
I quite like that! The interior is terrible, but I reckon if you were really bored and had a few $$$$$ lying around it could be something really cool!
Already wondering how easy it is to convert the living room into some sort of planetarium…
Oooh looks alright, this. Seems completely fine and normal. Could do with a bit of tarting up, but there's a good amount of nice open plan space and oooooooh, it's one of those.

Was thinking 'eh, the flooring is a bit naff but it's not that bad oh wait'

If it's hot good soundproofing might be handy for the dogs though

There is an additional bonus room that can be used as a craft room or office with a sofa room attached.
Ah, craft room or office. Of course.
The 18'' poured concrete walls provide protection and lots of insulation from the elements.
Makes sense. Could get quite exposed to the elements "on a quiet dead-end road on the out-skirts of Jefferson County".