Gengar is pretty scary
It is whispered that any child who mistakes Drifloon for a balloon and holds on to it could wind up missing. Because of the way it floats aimlessly, an old folktale calls it a "Signpost for Wandering Spirits." These Pokémon are called the "Signpost for Wandering Spirits." Children holding them sometimes vanish.
Gengar is so cute, I remember that episode from when I was a kid when they were just watching TV and having fun, adorable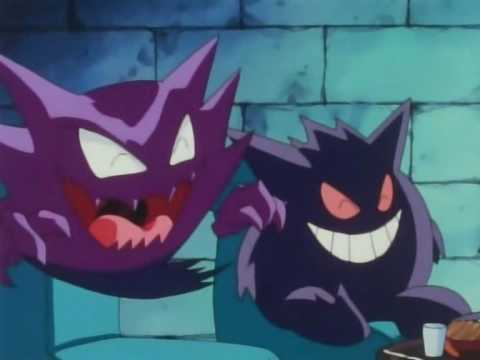 They really are, they're my favourite. But cofagrigus is scary
Even the new ones are adorable like the pumpkin, and also the dragon that shoots little dragons out of its canon
I can honestly say that I would die for Pumpkaboo, but the implications of Dragapult asexually reproducing tiny little Dragapults like that all the time are just too alarming.
I think they just like helping out
Galarian corsola makes me sad, the ghost one that's dead coral
You know what episode really scared me, the one where the psychic lady shrinks Ash and the gang and puts them in her dollhouse
we doing mixed types?
fucking amazing shit
I wish I had one of these :'(
Uniqlo, right?
Aw hopefully you can find some online! Yeah uniqlo, I went mad and got 3 (ghosties, gengar and the ditto face pokemon)
Dead boi appears out of nowhere if you have a spare slot on your team and a Poké Ball when Nincada becomes Ninjask. Don't think one poke becomes two anywhere else, must have freaked the nuts of players back in the day
1HP, so dies to a stiff breeze, but immune to all non-super effective attacks. Nothing funnier than an opponent getting Xerneas or Kyogre set up, then bringing this lad in to cockblock them