Everything about it is superb. The music is incredible of course, the fashion is astonishing, the cultural background is fascinating and really well handled I think.
Hard to pick highlights but Nina Simone, Stevie Wonder, and Sly and the Family Stone we're all particularly great I thought - I'd love to see all of those sets. I also thought David Ruffin was brilliant - to stand out as a vocalist given the competition is really something. Would have loved to see more of Mahalia Jackson's set too.
I hope they make more use of the material- there is scope for some releases of the music and for an extended version of the film I'm sure.
Thought they got the balance right with the talking heads stuff too, added a decent amount of context for each of the performances without taking the spotlight off them
really enjoyed seeing the 5th dimension people reacting to their own performance and how happy it made them
That was great. It must be emotional watching yourself 50 years ago and at your absolute physical and professional peak (although it must be said that they still looked pretty good in what must be their mid-seventies).
this looks great. is it cinema only in the uk?
Great documentary, I liked the Sly and the Family Stone and 5th Dimension (who I only previously knew from being sampled on Since i Left You) bits especially
It's on Disney+ from the end of July I believe
It's on a limited run in cinemas at the moment before being locked away on Disney+. It was great to watch in a cinema.
I must admit I was one of those who'd always assumed they were white vocal group for some reason. Their performance was great.
Really want to see this in the cinema but nowhere in Stockholm is showing it right now
Been looking forward to it since reading the article in the Quietus about it after it premiered at Sundance
Fucking loved that. I miss gigs so much that I teared up a few times. Mavis Staples and Sister Mahalia Jackson singing together was incredible. Jackson's voice had such power, fucking Hell.
Would love to see more from it. The minute or so we saw of Sonny Sharrock looked intense, would be great to see his whole set.
Mark Kermode said this is the greatest music documentary he's ever seen on his show last week.
I was going to probably just wait until it was on streaming but I think I need to see it at the cinema now instead
It was brilliant, there's just so much joy and life in it and the footage is stunning. See it in the cinema if you can.
No question about that. It would have been interesting to see how he fitted in with the rest of the bill and how he went down with the audience- he's a bit of an outlier when compared to the other acts we saw.
I've been trying to find a complete list of who played but it's not easy. The closest one I've found doesn't mention Sonny so I assume he was backing someone rather than playing a whole set himself.
He's an amazing guitarist and utterly unique.
I definitely would if you could.
The festival is mentioned multiple times in 'Harlem 69: The Future of Soul' by Stuart Cosgrove but I lost the book in my last house move so I can't check it. Will have to buy another copy.
Agreed on Sharrock being unique, there just isn't anyone like him. Used to watch this set a lot, totally mesmerising.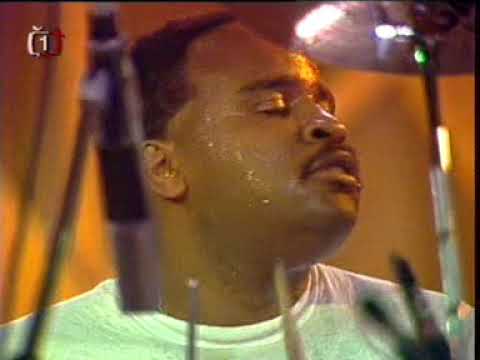 I saw this a couple of nights ago with my Dad and echo what everyone else has said. It was absolutely amazing. Such a well made documentary too - it would be easy to just rely on the music there, because so much of it is incredible, but they dealt with the background and political context perfectly.
Nina Simone's performance was the highlight for me. Especially the poem she read from the civil rights activist. Jesse Jackson's speech with Mahaila Jackson and Mavis Staples singing MLK's favourite gospel song also had me welling up.
Have been digging into a lot of the music I didn't know in the last few days. Max Roach, Sonny Sharrock and Hugh Masekala especially.
Their section in the film was great. Love the story about them getting tickets to see Hair. They have been sampled a lot too, have definitely heard their songs on some Kanye albums.