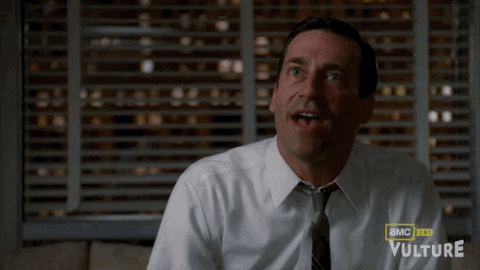 I've shot one wedding, and that was one wedding too many quite frankly. I know some wedding photographers, and the absolute shit they have to put up with, plus the pressure with only having one chance to get the shot, is an absolute nightmare. Not for me.
Yeah this is the main thing I was thinking of. Just imagine getting home and realising they're all blurry or something and you hadn't quite noticed at the time. I'd jump into the sea.
I saw a tiktok that says you have to tell everyone to touch teeth
And of course the "it's just pushing a button" attitude from anyone who knows where the camera app is on their phone. That's right mate, of course you don't need decent gear and years of experience, you step up and just airdrop your photos in the morning.
Pretty easy though innit.
Just make sure you have the latest iphone, chuck a few filters on. Bish bash bosh £3k please
An old photographer I know who dies real estate know who has done a lot and done some weddings said weddings are painful as you have to be a bit of a jerk to get everybody ready at the right time to get the right photo when they want to be partying etc.
Ours did a fantastic job, but I was very aware of them having a good day. They made a fortune off us, but we did end up with some amazing photos. Made sure they were fed, had drinks, and when they were teetering around it I invited them to play Mario Kart with us

Proper nice people, makes a huge difference getting someone good who just gets on with it and knows what they're doing.
Yep, this.
We went to a few wedding fairs where photographers were showcasing their work and the difference in quality between those charging £500 and £1500 was huge.
At £500 it was basically some chancer with an entry level SLR (or a better SLR with a poor lens (singular)). The more expensive ones really knew their stuff and had a vision of what they could achieve (and then had all the gear).
Surprised there hasn't been a film made called The Wedding Photographer about a wedding photographer who fucks up all the photos and tries to resolve the situation with the cast of The Hangover and it's really about the friends he makes along the way
Just get your mate with a camera to do it and tell them it's your wedding present from them, easy
"alright mate, I've invited you to my wedding, but how about you spend the whole day working for me for free, when to get a professional would cost ten times what you were thinking of spending on a wedding present?"
my posting, like my iphone photography, is high level art
Point and shoot disposables on every table plus an Instagram hashtag imo. The shitter the photos the better
Always annoying when the cast names don't align with the photo.
This clearly doesn't exist though
Exactly!! Worked great for me