Really sad when the horse dies isn't it
Nice when the horse comes back at the end though, isn't it
Really traumatic moment for me as a child
Sorry I meant the bit where I realised the story had an end
Was furious
I'm sort of amazed that it hasn't had a big budget remake yet tbh
the horse did not die in real life before anyone spins that yarn
As a kid: Gmork is pretty scary but 'The Nothing' is a lame idea for a villain.
As an adult: Holy shit, The Nothing represents depression.
Michael Ende wrote The Neverending Story! you couldn't make it up! Actually you could, because he did!
The Neverending Story aaaaaaahaaaaaaaaahaaaaaahaaah
The Neverending Stooooooorrrrrrrryyyyyyyyy
Aaaaaaahaaaaaaaaaaaaahaaaaaaaaaaaahhhhaaaaaaaaaaaaahaaaaaaaaaaaaaaaah
NEVERENDING STOOOOOOORRRRYYYYYYY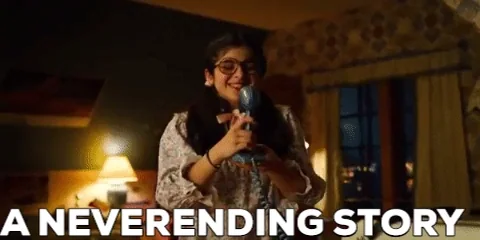 Used to have it taped and would rewatch it so many times. In my top three films that bring back childhood nostalgia, along with Drop Dead Fred and Who Framed Roger Rabbit
(And Pagemaster as a close fourth)
This is now the films that evoke childhood nostalgia thread
Ridiculously underrated film

Think it was the first film I saw that was a wee bit 'rude' too.
Formative haha
Remember when Jack Black was in Neverending Story 3?
Shite.
Started watching it a while ago, haven't finished it yet