Happy New Year, Graps Fans! It's time to do all the bollix all over again! What's in store for us in 2023?! More bollix, no doubt!
As ever, the first quarter is when things seriously start heating up again, first in Japan, then everyone's favourite WWE PPV, and finally, onto see what TK and the boys can offer just ahead of Wrestlemania. It's too early to have any details of AEW Revolution (March 5th) and all we know about the Royal Rumble so far beyond the two traditional matches is a "pitch black" match, presumably involving Bray Wyatt, so we will for now be concentrating on the biggest show in the eastern world (and beyond) WRESTLE KINGDOM 17!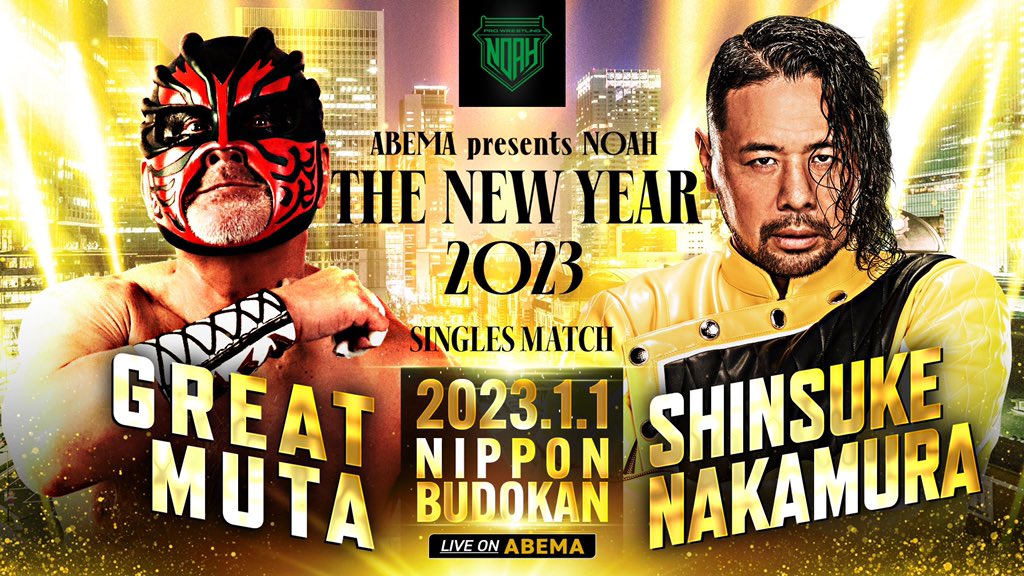 But wait, first we have the small matter of a forbidden door being smashed open, the retirement of a legend and an absolute dream match! Keji Muto, or rather, The Great Muta's retirement! While Muto will appear at WK17, which I'll come onto shortly, he is performing his last match as Muta vs WWE's Shinsuke Nakamura (which he is quoted to have said would never have been possible under the old regime) in the main event of NOAH's The New Year 2023!
I can't pretend to know a lot about Pro Wrestling NOAH, beyond this now becoming their biggest show of the year at the Nippon Budokan after its success last year, and if I had to hazard a guess if you wanted to try and watch it live, this match would be around 12 pm GMT on New Years Day? Either way it should be an emotional classic and well worth checking out.
Right then, the BIG one! A historic Wrestle Kingdom as it will serve as a tribute to the great Antonio Inoki in the first WK since his passing, Keiji Muto's final NJPW match, the return of the man who arguably put the promotion onto more western eyes than ever and the first ever NJPW Women's Championship defence (and major women's match on a WK card). Oh, and the crowning of the inaugural TV Title Champ.
Not bothering with the pre-show but NJPW are making it very clear it kicks off 6:20 am GMT, with the main show at 7:20 am, as their biggest show of the year returns to just one night, the traditional January 4th.
Here's a quick rundown:
Yuji Nagata, Satoshi Kojima and Togi Makabe vs. Tatsumi Fujinami, Minoru Suzuki and Tiger Mask Antonio Inoki Memorial six-man tag team match
We kick off with the Antonio Inoki tribute match, which will act as a nice warm-up match to settle into as some legends of the game have, essentially an exhibition tag match in honour of the father of NJPW. Interestingly this match kind of announces Suzuki as being on a "legends contract" level now, after disbanding his Suzuki-gun faction just last week. I would imagine his team wins, but there's little to no stakes in this so it doesn't really matter.
Catch 2/2 (TJP and Francesco Akira) (c) (with Gideon Grey) vs. LiYoh (Lio Rush and Yoh) Tag team match for the IWGP Junior Heavyweight Tag Team Championship
LIO RUSH! T.J PERKINS! YOH! SOME OTHER LAD!
It's been a strange couple years for Lio Rush and TJP, and yet here they are, getting a Wrestle Kingdom payday. I can't say I pay enough attention to NJPW's American show to know what the deal is here, but it should be good fun all the same.
Kairi (c) vs. Tam Nakano Singles match for the IWGP Women's Championship
Here we go then, arguably the most historic match of the night, as NJPW has finally embraced creating a fully blown Women's Division (well, in partnership with Stardom and other partners, meaning we could well see this title on AEW next year) featuring the absolute superstar that is Kairi (nee Sane) up against Tam Nakano, who was STARDOM's champion up until yesterday, where she lost to Saya Kamitani, which has added an interesting extra wrinkle to this match. And that's before we get to the heavily rumoured appearance of Sasha Banks to assumedly challenge whoever the winner of this match is. Personally think Kairi retains due to her crossover appeal with a brand new title, but it depends on what their plan is going forward with it, as she may not want to travel with the belt again, having left WWE in the first place to be back home.
FTR (Dax Harwood and Cash Wheeler) (c) vs. Bishamon (Hirooki Goto and Yoshi-Hashi) Tag team match for the IWGP Tag Team Championship
As someone pointed out just the other day, this is most likely part of FTR's shedding of the gold as they look at next moves, but they are always amazing value and fully deserve their WK payday even if it is against… sigh… Goto & Yoshi-Hashi.
Zack Sabre Jr. vs. Ren Narita Tournament final for the inaugural NJPW World Television Championship
Interesting one this, as NJPW have seemed fairly desperate to put a title on Zack for a good couple years now but haven't found the right opportunity, which would suggest this title has basically been created for him. HOWEVER, this is a massive push for the fresh-faced Narita and Zack is prone to the odd upset more often than one would expect, so don't completely rule out the recently graduated young lion here.
Karl Anderson (c) (with Luke Gallows) vs. Tama Tonga (with Jado) Singles match for the NEVER Openweight Championship
In very similar circumstances to the previous two matches, we find another forbidden door (of sorts match) between someone who is surely here just to fulfil their obligation after their sudden departure back to WWE a couple months ago, vs another star NJPW have been absolutely desperate to put a title on in the last year or so. This one is surely an absolute dead cert for Tama, so obviously queue a completely unexpected win for The Good Brother.
Keiji Muto, Hiroshi Tanahashi and Shota Umino vs. Los Ingobernables de Japon (Tetsuya Naito, Sanada and Bushi) Six-man tag team match
The second multi-man tag tribute match of the night, this will presumably see a fairly standard win for LIJ, but a very decent spot for Shota Umino to find himself after an excellent year on his part.
Taiji Ishimori (c) vs. El Desperado vs. Hiromu Takahashi vs. Master Wato Four-way match for the IWGP Junior Heavyweight Championship
It's a staple of Wrestle Kingdom, you love it, I love it, it's the customary flippy bollix match. This genuinely could go anywhere, even (whisper it) Master Wato who NJPW have spent quite a bit of time and effort trying to rehabilitate his D.O.A gimmick when he arrived during Covid. Whoever wins, we're all the friends we made along the way. Wait…
Will Ospreay (c) vs. Kenny Omega (with Don Callis) Singles match for the IWGP United States Heavyweight Championship
Now then, an absolute dream match to say the least, and a fun narrative for Ospreay who gets to try and prove how he's stepped into Kenny's shoes after he left to form AEW. There are obviously no words needed for the impact and implications of Omega's return to the Tokyo Dome, it is a huge, huge deal and would be the main event were it not for the world title match. Expect this to be not only the match of the night, but quite possibly a very early MOTY contender. In normal circumstances I'd have said it would be an "easy" (booking-wise) win for Ospreay, but given NJPW's deal with AEW…
Jay White (c) (with Gedo) vs. Kazuchika Okada Singles match for the IWGP World Heavyweight Championship
And finally, our main event, in which Kazuchika Okada seeks to usurp the evil Jay White in his conquest for his seventh IWGP World Heavyweight Championship. While much booking logic would dictate Okada regains the title he lost to White at Dominion in the summer, I wouldn't put it past the bookers to put a relative swerve on here and get White to retain, given Okada had his "safe pair of hands" title change moment at last year's WK. While I don't think if Okada wins it would put him in "Cena wins, lol" territory (he's far too good for that) I would argue the smart money is on White who just keeps getting better and better as the craftiest of craft heels. But then that wouldn't be a much fun end to the biggest show of NJPW's year, would it?
Right, that's for indulging me, LET'S DO A NEW YEAR GRAPS FANS!