Boring but potentially funny if Disney get wind of it chaser: it's only the books that are in the public domain; the representation of the characters everyone remembers (and that comic uses) are from Disney and very much still subject to copyright.
As long as the red shirt is off you can do what you like. I think.
AFAIK the EH Shepherd illustrations are still under copyright too so yeah, lose the red shirt but then don't make it too similar to those or you'll get got?
Even more @iamwiggy content
deeply amused that this thread is in "entertainment" while the Great Things thread is not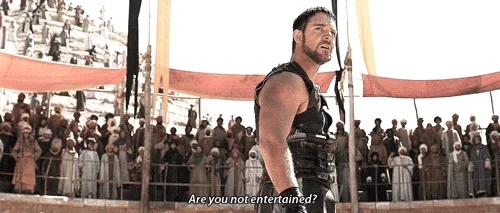 I'm hoping this gif is Gladiator saying "Are you not entertained" because my Internet is for shit
Erm. Might want to blur that for people who are at work
Done

What the shuddering fuck.
grim but also, I can't decide which is funnier, the fact that they have a massive union jack as well as several nazi flags (both sides-ism to an extreme?), or the fact that a picture of hitler's face has "hitler" written underneath in case anyone didn't recognise him
Hmmm.
On the one hand, I can see what you're saying. From a WWII perspective.
On the other hand, from a variety of other perspectives…