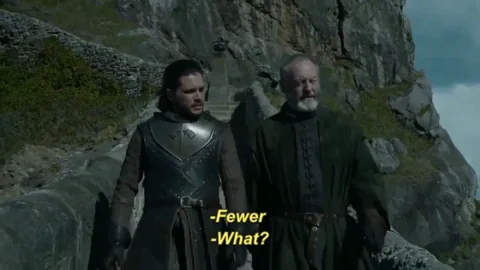 I've got the perfect solution…
When considering the results of the thread lifespan test, I'll consider the length of time the thread lifespan test stayed alive
When considering the results of the thread lifespan test, I'll consider the post count of the thread lifespan test
With every well-meaning excess post we are killing the lifespan of this thread with kindness. Just as well it's only a test.
Sorry for the grammar @1101010 . You have every right to be lesseriou… I mean, fewerious.
TBH I just like that GoT somehow made this a running joke based, as far as I recall, on actually a completely different character's grammar call out regarding the use of hanged vs hung. So I like to call back when the lighthearted opportunity arises

It's my favourite callback joke in all of GoT (the TV show)
Well done @Avery by the way. You are now the proud owner of the most prolific rubbish thread of all time!

(14hrs 58mins

)
I just can't believe how far the users of this sweet little thread have managed to take it in such a short time.
We were stopped from letting the Queen thread get to 10K posts. We won't be stopped this time.
Little nudge into the weekend
15:47, new record. Can't believe people who aren't playing are outscoring me
Goodnight, points suckers!

Was wondering this morning if the 10,000 posts thing was DiS specific or part of the general forum build. Would be good if we could get it lifted if it's the former, would only really affect this thread and the, I dunno, cycling thread maybe? And no-one reads that anyway.
Someone rename this "thread length test" and we'll know the answer in a few years.
A 300 post thread on the Rubbish forum in the year on our calendars of 2022. I'm sure that's the last thing anyone expected when they woke up at any given point earlier in history.