It was so wholesome
Is it all fake?
Why dude why
I think his enthusiasm for trains is real, but I mean, did anyone think his real name was Francis Bourgeois?
He's a character man. Tellin ya
This and the weird face camera thing were big signs.
I feel a bit uneasy about his shtick. Hard to tell if its well intentioned or ridiculing others.
I've been chatting to a girl lately who works on trains and she says they always see him so I don't think he's hanging around stations all day without actually liking them and not sure why him being into music means he's fake but this is me hoping he's not even after long suspecting he was because idk, if he's faking the joy and all that I feel like he's treading a bit of a shitty line…
Massive assumption here on my part but he acts just like my autistic friend - not sure anyone else agrees but enthusiasm in one subject like that and presenting it so so emphatically…well it feels a bit like something Ricky Gervais would do. Look at the funny man with his funny interests isn't he SO PURE.
So, I'm hoping its real.
One of the all-time great French regen footballers, up there with Harchester United's Didier Baptiste and Melchester Rovers' Pierre Dupont
He's not a real nerd because he
(checks notes)
makes electronic music?
This proves more than it disproves, lads
Also: take it from me, Boggy Can is the exact sort of track title / artist name you come up when you're kind of a loner with a weird sense of humour
Does this mean Geoff Marshall is back to being the canon train guy? Or is there a vacancy?
Looks like railway infrastructure enthusiasm is back on the menu, boys
Even if it is all a lie, I'll always be grateful for him at 3:02 getting graffiti of "FUCK" clearly displayed to millions on daytime television.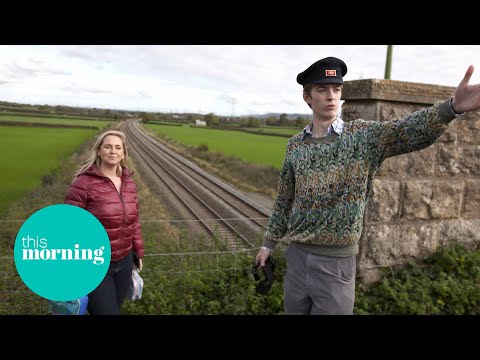 His real name is Jack Proletariat
Democratise canon train guy status imo. There can be many. The more the better actually.
If not for being the sex president of Barnsley I'd want my DiS tagline to be Train Guy. even though I'm not a guy
The daft camera is obviously a bit for the Internet but I think he does actually like trains.
I remember the joy, back in about 1983, when I spotted the train 87016 "Sir Francis Drake", the final 87 class train I had to see.
I understand the excitement this guy gets!
Think I'm just afraid that any internet thing at any time could be revealed to actually be a milkshake duck