I wish politicians were weirder
they're weird enough as it is
just twitter being it's usual annoying self and hyping everything up like omg cocaine is trending because michael gove wobbled his head and did a silly voice.
super weird when you consider the levels of artificial hype and overreaction most streamers and youtubers go for, like it's just performing on camera
weird in a different way imo. less of an absolute danger
it's just his human suit malfunctioning again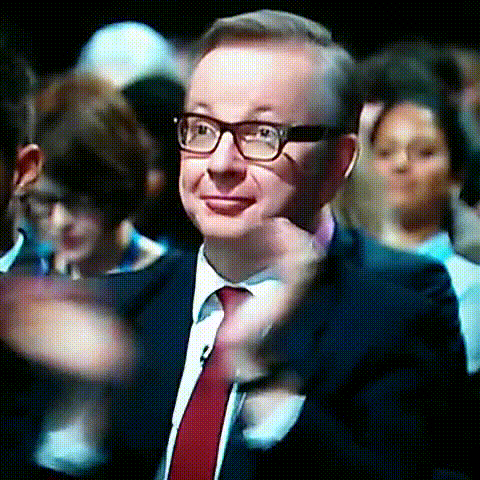 I like that he had a professional photo shoot done and then actively chose to go for this one as his official MP picture:
Maybe we're all actually the butt of his joke

I mean, technically we are…
In fairness that is an uncanny impression of Rishi Sunak's accent
Genuinely hate that calm measured appearance most of them put on. This is important, they should have an emotional stake in what they're doing.
I also just completely loathe "PR"
People who refuse to contest the boundaries of acceptable political communication think they're so savvy but they're just actual conservatives
a lot of people who work in PR/comms confuse this for actual political analysis and strategy too
(realise it isn't a new insight that certain political groupings promote style over substance; my point was more that they think this is all there is to political analysis and that they're just very good at it and very clever)
Good grief I have worked with some of these people and the conversations are like
"We really did well there, really got our message across"
"Wait…what? What was the message?"
"That we are the only party with a clear message"
"But what was the message??"
"That we are the best at messaging"
"??!!?!"
"Just look at the engagement numbers"
200 instagram likes


If only people knew how to cook more efficiently. Why has nobody thought of that?
Con+5 I really do hate this country.
"But mister, how do I cook this meal without a cooker or any fuel?"
"You'll never get anywhere with that kind of defeatist attitude "
Would love to see him sent to the supermarket with 30p to buy ingredients and then make his nutritious carrot soup boiled carrots.
Latest Downing Street rule fines have just dropped.
This dude allegedly claimed £4,000.00 on subsistence as part of a £220,000.00 expense bill for 20/21 but yes it's foodbank users that are too lazy and need to cook.
Just read his wiki page…
He used to be in the Labour party until 2018 when he was suspended for dumping boulders to block access to a Traveller camp site for which he was subsequently given a community protection notice.
Don't ask me how, but if that happened in 2018 then surely Corbyn is to blame?
Just read more…
During the 2019 general election campaign, in the wake of a murder on the Carsic council estate in his constituency, Anderson said that certain "nuisance" council tenants were "making people's lives a complete misery". He said: "Let's have [the tenants] in the field, picking potatoes or any other seasonal vegetables, back in the tent, cold shower, lights out, six o'clock, same again the next day."
Anderson was one of three Conservative Party candidates investigated by the party over claims of antisemitism during the election campaign. The investigation was opened on the grounds that he was an active member of a Facebook group in which other members supported Tommy Robinson and promoted George Soros conspiracy theories.
Your post reminded me of this