On Van Weezer, they've taken this song, which is for my money one of River's absolute best for years:
And they've made it in to a Crazy Train cover
God I wish I was joking about this.
Just come across this 2 hour parody musical of Julius Ceasar which uses Weezer songs, but inexplicably they've gone for 4 songs from Red, 3 from Hurley and only 2 from Blue bahaha: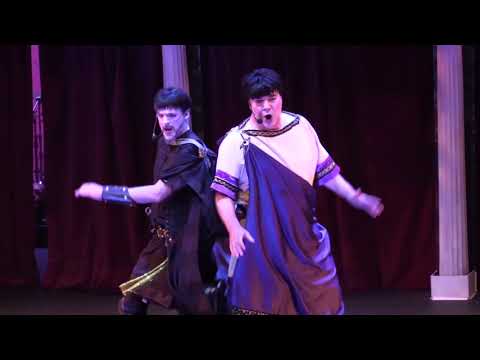 I've listened to 10 weezer albums in the last 24 hours. What a wild ride
Does that include the new one?
I have now listened to all of the weezers
Did you watch the livestream? Absolutely phenomenal, and the production was 10/10. Best drum sound of anything Weezer have ever done in their career.
Van Weezer is so odd. A lot of it just sounds like classic Weezer (which says a lot about the influence of hair metal on the Blue album, I suppose) but then these 80s metal guitar tones come screaming in out of nowhere.
As mentioned above, the repurposed Crazy Train is weird enough as it is but I didn't realise it was a reworking of one from the archives.
I actually like it but it feels like the production is completely at odds with what the music is trying to do.
I did! Really enjoyed it.
I'm enjoying it. I don't mind the hair metal squeals as they've been put on top of pop songs, as opposed to it actually being a full on hair metal album, which I wouldn't be down for at all.
Van Weezer is the most frustrating album of their career. 2 or 3 great songs and a lot of songs hampered by the production choices and lyrics.
I do like it, but definitely OK Human is my favourite of this year's releases, and the first side of Van Weezer is much better than the second (unsurprisingly, everything released before the album came from said half…)
Just finished my first listen. Not so good, Al.

Thought you were all implying they'd ripped off the Crazy Train riff and maybe changed a couple of notes to get it past the lawyers but NOPE it's ACTUALLY Crazy Train

. Just checked the credits on Spotify and Ozzy, Randy Rhoades and Bob Daisley are all there.
I have listened to this twice and feel absolutely no desire to ever listen again. OK Human and the demos have spoiled me.
Still like the album a day on, but I will say this one would be "up there" if the second side was as good as the first.
Obviously its not quite a top tier album but for me it comfortably lands in the second tier. It's a whole load of fun and I dont think I'd be annoyed if any of these songs came up on a shuffle
Van Weezer is very fun. The past 5 years of being a Weezer fan has been a lot more rewarding that the 15 years prior… and they've been their most prolific!
If I hadn't been spoiled with the Demos, I'd appreciate Blue Dream a lot more. They've dropped the ball on the amazing tune that is Ballad of the Briny (Rough EWBAITE demo).
Alright obviously I've listened more and it's grown on me, like all new Weezer albums do. Feel like it suffers a bit from following OK Human which was such a smash. Would have been a nice palate cleanser after Black.
Cannae wait to do a fresh ranking.