I was about to link to a big long spacey unreleased track that I did about 6 months ago that has liberal use of wah wah both on the rhythm and lead guitar parts … but then I realised it also has lots of my singing falsetto too and nobody needs to hear that
it's ok to say if you were using the wah pedal ironically btw
not at all, I love a bit of wah (in the right context)
were you at least pulling a guitarist face?
A couple of years ago I was listening to Metallica and thought 'hah, Kirk Hammett? More like Kirk Wahmmet, amirite?' Went to tweet it and searched it first and obviously millions of other people had already thought of this incredibly obvious joke.
I don't think so, the track in question is like a Spacemen 3/Spiritualized slow burner that's just waves and waves of tape echo and the wah was to give it more waves and groove
I think I probably had a bliss face
best guitarist move
playing with guitar behind the head
leg up on the amp, guitar erect for the solo
lips pursed "oooooh" and a head nod at how good the guitar is
shoulder to shoulder with the lead singer looking at each other and smiling
Feel like it used to be spinning the guitar around your body until Lost Prophets became heavily associated with that
not going to listen to this in case it's metal but it would be pretty scary to have a glass jaw wouldn't it, if you chomped down too hard on a burger it would shatter and cut your throat and you'd bleed to death
oh I forgot totally about that, had a friend who played bass who used to do that. Assumed it was a RATM thing.
This combination is the secret best guitarist move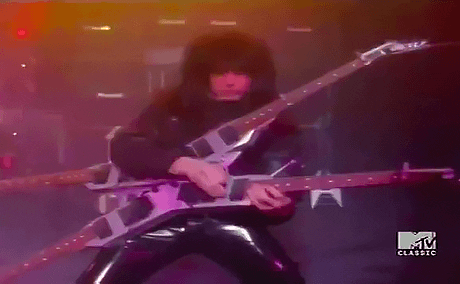 I can't enjoy fails videos of people trying that and the guitar going flying because I feel sorry for the guitar. Feel a bit sick if it goes headstock first into the ground too.
People give Rage a lot of shit but… they're simply wrong. Morello sometimes comes off as hacky because he tries harder than most to do something meaningful
Meanwhile the same people beat off to Greenwood playing the fax machine
Fool's Gold maybe? For a real chart topper anyway.
Oh no actually the red hot chilli propane lads
would rather go for a beer with morello than greenwood any day of the week
Exactly. Like I get that it's relatively dadcore to still think Morello is good but at the same time… HE IS GOOD.
guitarists are inherently cringe tbh so they might as well just go for it
This. If you're going to be a lead guitar player you're already not cool. This is just a fact. So go hard.