The Godfather
Part II
Part III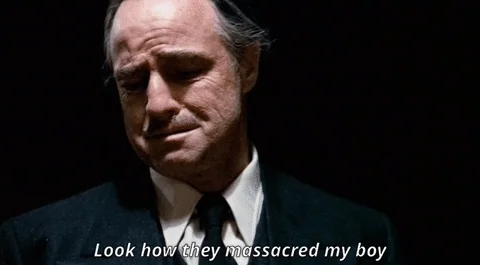 Have only seen the first two, probably preferred the first one because I quite like the slow, meditative bits like when Michael goes to the old country and obvs the orange grove bit
Part II is obviously brilliant but it's just so fucking loooooooooong.
because I like old movies, Godfather Part 3
Godfather II is a fucking flawless masterpiece.
Love the first one as well right enough.
I keep telling myself I will watch The Godfather at some point this year and it just hasn't happened yet.
Yes but it's just so long Lopes.
Part II, iirc it's long but good
Well it isnt considered the best one
The first 2 are obviously great but Brando's whole jaw/speech thing is so hammy, I'm sure we all agree.
me: Goodfellas
Funky: why are you like this?
me: quip, earning 2-5 likes
It's not long enough

You come to me on the day of Funkhouser's which is the best Godfather thread and tell me Brando's performance was hammy? What have I ever done to make you treat me so disrespectfully
I'm not interested in things that don't concern me.
Only seen the first one. Decent film. Will watch the second at some point
Have never fully appreciated them tbh. Time to give them another go though as it's been a few years.
Only part I really love is the section set in Sicily in part 2.
Can't remember much about them other than Godfather 1: black clothes, Godfather 2: white clothes
Wedding bit in part one is probably the best like half hour committed to film tbh.