I think you potentially would…
I never really got into the first two albums (but then again I don't think I gave them more than a cursory listen), but loving this one
Their albums have been enjoyable but pretty inconsistent up to now I felt, I've loved tracks on each but I don't think either their first or second worked as a whole. This is much better though. I wasn't really excited by the preview tracks but it really works as an album. I wouldn't really take anything off it, even the daft "Greatest Hits" song. Glad to have them back. The vocals on "Lipstick On The Glass" are astonishing.
Realised Delicious Things reminds me of All Saints
Saw them support The Cribs back in 2013, I'll have you know. I thought they were amazing and was desperate to hear an album from them. Listened to Fluffy / Bros hundreds of times that year. Rinsed that first album and then queued outside HMV to see them sign / perform on the second one.
Then went to see them in Brixton at the end of 2018 and was having a pre-gig meal and released I wasn't excited about seeing them in the slightest. If I wasn't with my partner I think I would've made it in and left halfway.
Gave this new one the once over and wasn't that fussed, the singles sounded good but that Greatest Hits song feels a bit contrived and silly… could be a fun live set piece tho. I'll give it another listen this week, based on this thread.
I feel that scooping the Mercury Prize (and getting a 10/10 from DiS) has done surprisingly little for them. Would've been very happy for them if they went supernova after the second album / praise… but this never seemed to happen. Also, four years between the second and third album seems ridiculously long for this band.
Metacritic's highest rated album of the year so far, and one of the site's highest rated ever supposedly. Can't remember the last British rock album to get that kind of across-the-board full marks-almost-everywhere type approval.
Pitchfork to give it 3 because it is British.
Or just ignore it altogether?
Fully on board with this. A really good album. Might go back and give their first 2 albums another go.
Ok so this is great.
How Can I Make it Okay? reminds me of Walking on Broken Glass by Annie Lennox. I even really like the daft Greatest Hits song.
Not seeing much pop for Safe From Heartbreak anywhere. Think it's absolutely stunning and one of the strongest tracks on there.
Love that track. There's a poll here…
I'm going to keep trying with the new album. I really love the first, didn't get on with the second and still on the fence with this. I'm looking forward to seeing them live next year and (hopefully) at latitude and really pleased for them that they are getting such positive reviews. Something just isn't sticking at the moment though except a few stand out tracks
Never really bothered with these before, but I can't get enough of Delicious Things. It's so satisfying to listen to. Caved and bought the album. First three tracks are all top.
It's got the hooks. I couldn't get over my initial disappointment after loving Moaning Lisa Smile (linked below, because, well why not) and finding the debut a let down. They've clearly gone for accomplished grown up pop rock on this, but they've done a good job. Will see if it grows on me.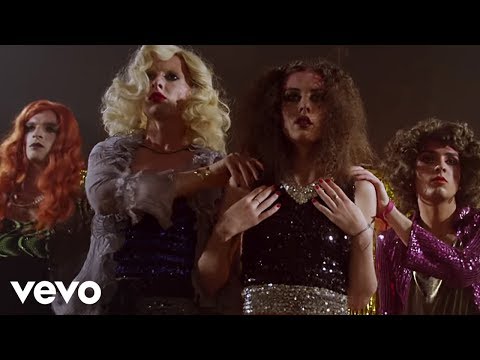 Yup, actually quite like this!
Wow. I think I've actually posted this three times in this thread. I look forward to doing so again for their fourth album!
It's a great, great song but suprised you didn't find anything on that first record akin to it. Am thinking Giant Peach, Your Loves Whore and You're a Germ etc?
Love the new one. They've always been pretty eclectic so I really have no problem following them down whatever musical rabbit hole.
How Can I Make it OK is just outstanding stuff. They're an excellent band with a megastar vocalist but this is on a new level.
Glad they've hit no. 1 at last