Congratulations! This is a great honour, one given to presidents, sporting icons and other celebs, a long standing tradition that sees YOU opening a baseball game by tossing out the opening pitch to a waiting catcher.
It is 60 feet from where you stand on the pitcher's mound to home plate. For a perfect pitch, you will deliver the ball directly over the home plate somewhere between shoulder and knee height. The question is: Can you do it?
Many celebs have failed: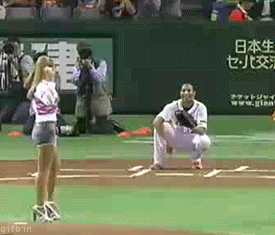 Now it's your turn.
Be honest: WILL YOU THROW A GOOD FIRST PITCH?
No problem, I actually played a little college ball
Think it would be a bit wobbly with the nerves, but it would be passable
Would be surprised if it even goes in the right direction